It's my third time in Bangkok and truly wished that I had known Centara Grand at Central World Hotel way before! I always ended up heading to Central World and Siam Paragon in my previous Bangkok trips for food and shopping. So it really made a lot of sense staying in a hotel right smack in the center of Bangkok's shopping district this time. I went to Bangkok during the Thailand Coup and felt extremely safe staying in Centara Grand at Central World. Everything in Bangkok appears to be business as usual. Had I not heard anything from the news, I wouldn't have realized that there is a political crisis going on.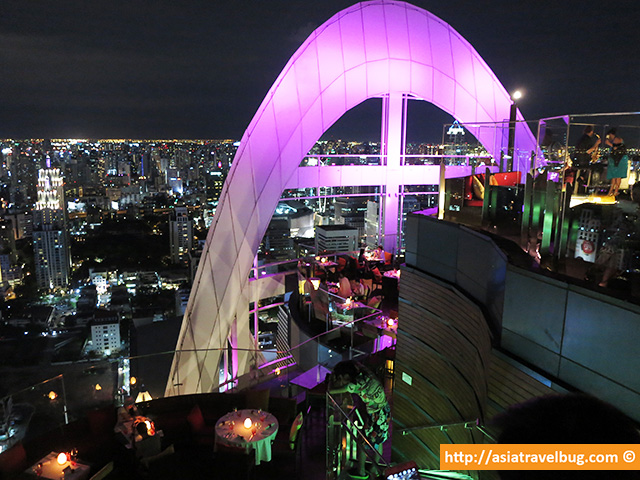 The Lobby
As soon as the taxi dropped us at the ground floor lobby of Centara Grand at Central World Hotel, I knew that our Bangkok trip is going to be a blast. I've always wanted to stay in heart of Siam area and the location of this hotel is just perfect, with the entrance tucked in a quiet street between Central World and Siam Paragon. The bellboys quickly offered help in attending our luggage and pointed us the way to the main lobby at 23rd floor. As the elevator opened in the 23rd floor main lobby, the lemon grass scent immediately relaxed us from our weary flight. The lobby is very modern and stylish with colorful glass-panel flooring leading to another set of elevators. You can do a cat walk here if you want to if no one is watching! The check-in was pretty fast and convenient with our luggage already brought to our room by the bellboys ahead of us.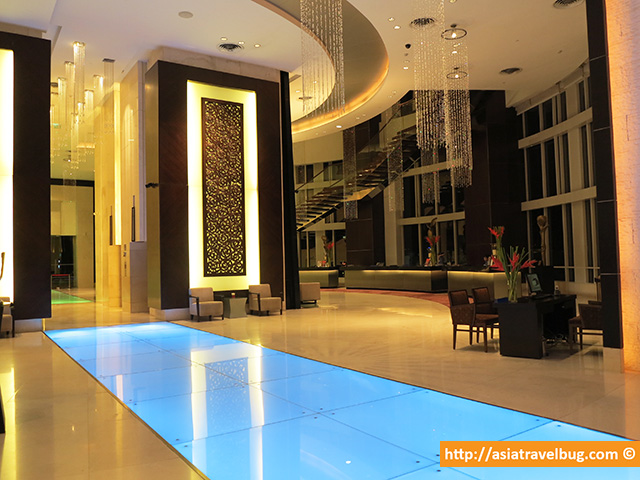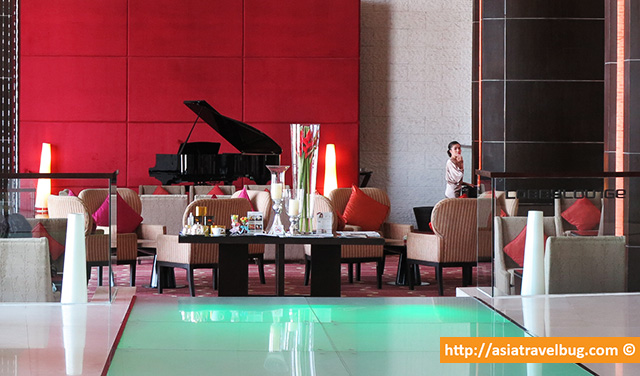 The Room
We were escorted to our suite at 49th floor by the front desk lady who explained how to access all facilities of the hotel in detail. I was impressed with the Executive Suite. It felt really cozy despite its massive size of 67 sqm with a separate living room.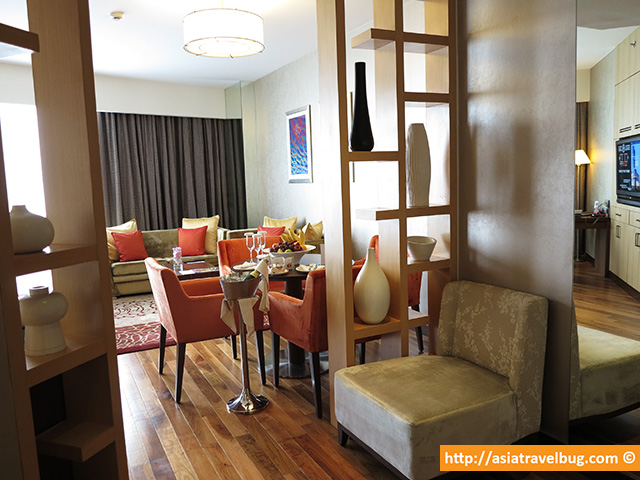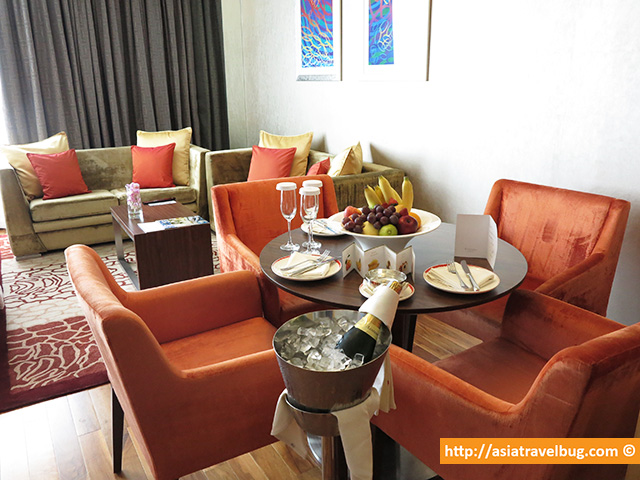 Everything in the suite is smartly laid out and intuitive. The flat screen TV can actually be flipped out and tilted so you can watch your favorite show in comfort wherever you are in the living room.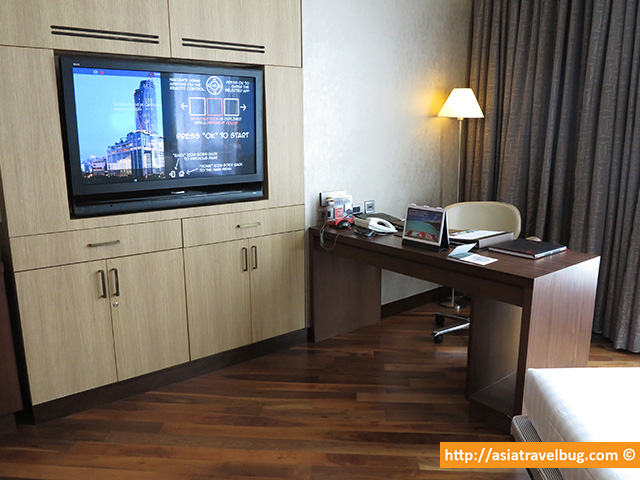 Just like the other hotels in Bangkok which I've been to, the bed in Centara Grand at Central World is heavenly. I slept like a baby!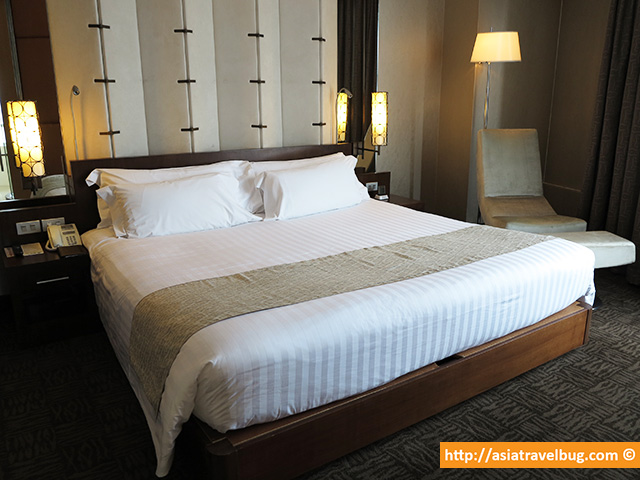 The bathroom is massive with a separate shower and bathtub.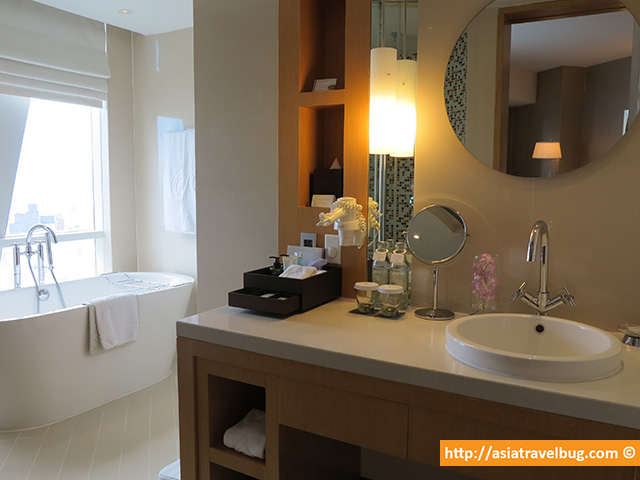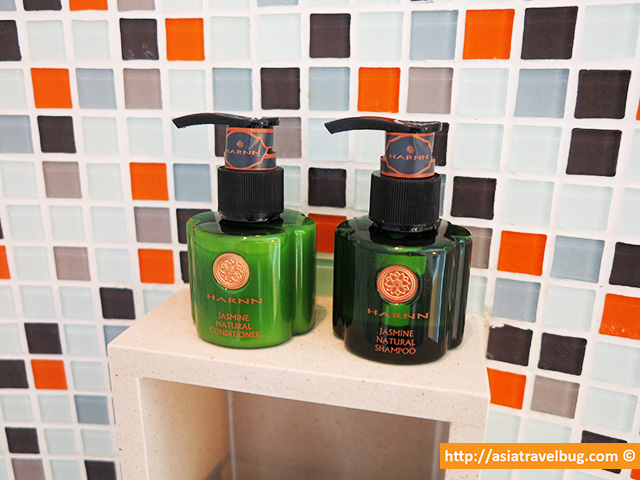 The rain shower worked like a charm with just the right pressure perfect to de-stress after a long day in Bangkok.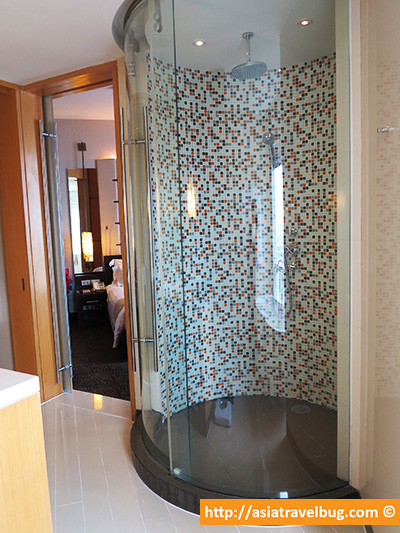 I really love the view of the Executive Suite. It is expansive facing towards a vast temple ground and the Siam Paragon mall.
The welcome champagne and the gigantic bowl of fresh fruits were a nice surprise!  The fresh fruits were so many that we're not able to finish everything in 4 days.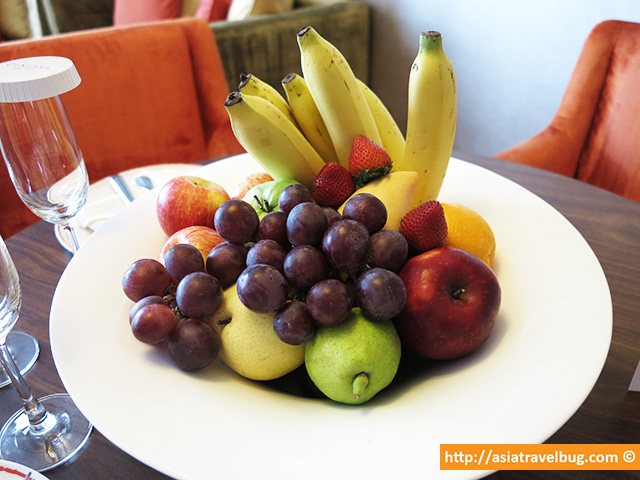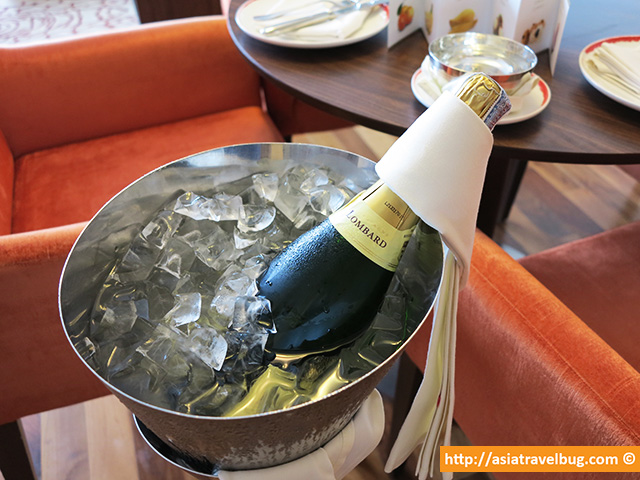 I have been lucky to have a fair share of suite experiences in Shangri-la, Peninsula and Raffles outside Bangkok and can confidently say that the executive suite of Centara Grand at Central World can easily rival similar rooms of 5-star global chain hotel brands.
The Service
All the staffs we met in Centara Grand at Central World Hotel were very welcoming with genuine intent to please and exceed expectations.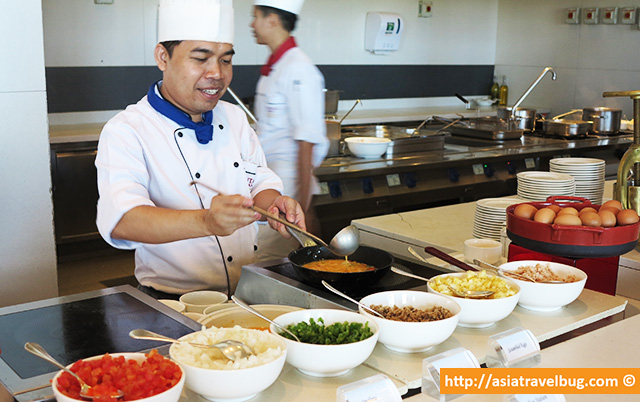 The Club Lounge
The club lounge came in very handy especially at times when I just need a 5-minute power breakfast. I find the breakfast spread in the lounge to be sufficient. But if you want to have a more extensive buffet breakfast, you can always head to The World restaurant in the hotel's 24th floor. Club lounges in other 5-star hotels can get crowded at times but I have never experienced this in my stay in Centara Grand due to its ample space.
The pastries served during the afternoon in the lounge were quite good and tasty!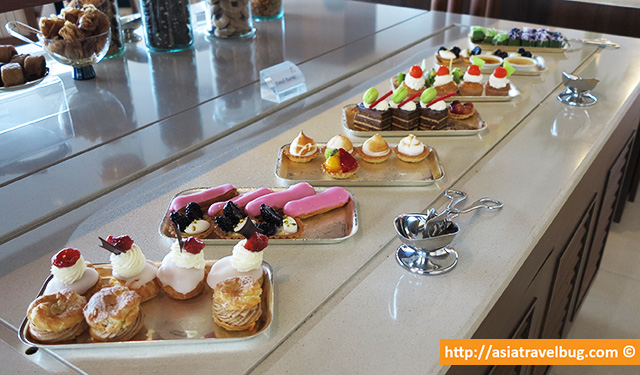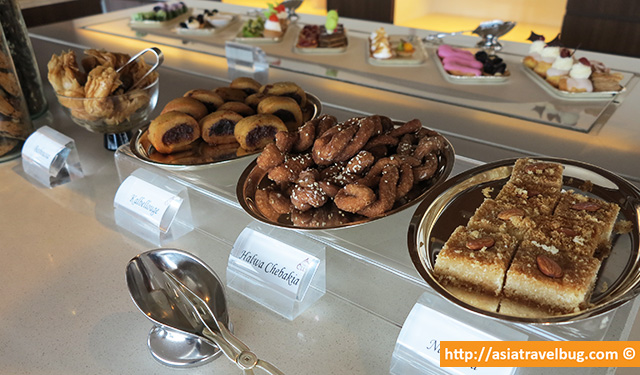 The lounge offers a lavish food service from 6am to 7pm. Too bad I was not able to experience the lunch and evening canapes in the lounge as I was out most of the day. For future 100% leisure trips to Bangkok next time, I'll make sure to book a club room in this hotel and just enjoy all the club benefits!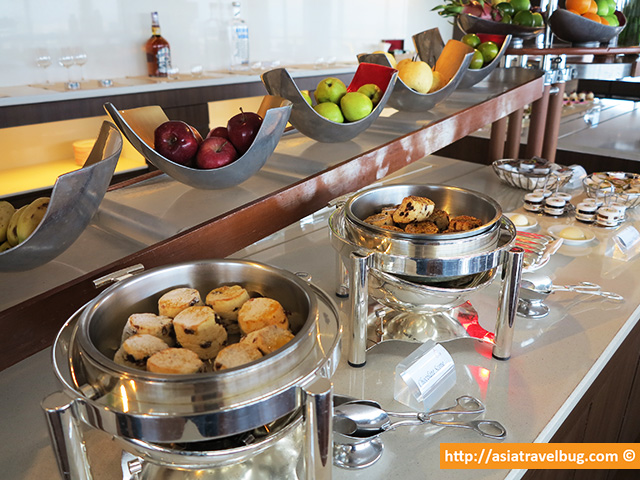 The club lounge of Centara Grand at Central World is one of the better lounges that I've been to in local hotels in Bangkok. I have previously stayed in Tower Club at Lebua and can say that the club lounge in Centara Grand is leaps and bounds better! The lounge in Centara Grand at Central World has better views, better space, better service, better food selection and a more relaxed lounge environment.
The Breakfast Buffet at The World Restaurant
I find the ambience of The World restaurant to be very modern and stylish. Its vibrant decor is just like a coffee that will perk up your morning instantly!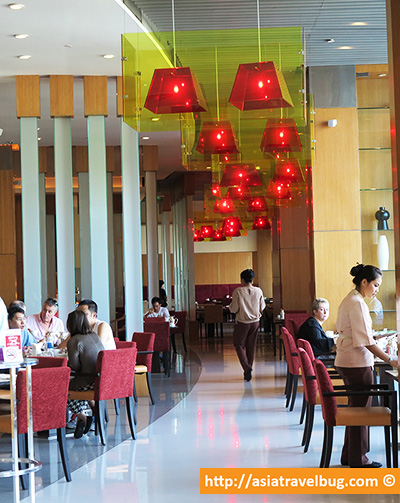 The restaurant boasts an extensive breakfast buffet selection with great variety – with Chinese, Indian and Western sections. Definitely, the breakfast will appeal to both Asian and Western guests.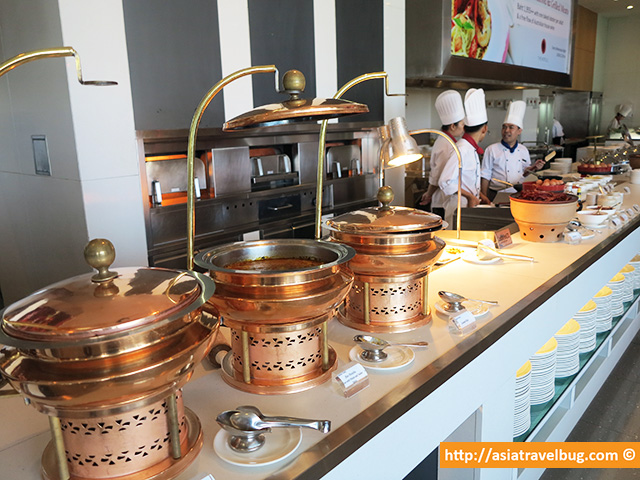 I love the pork buns!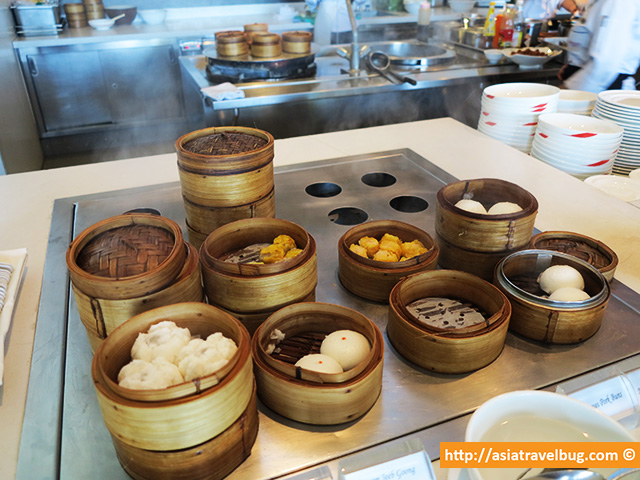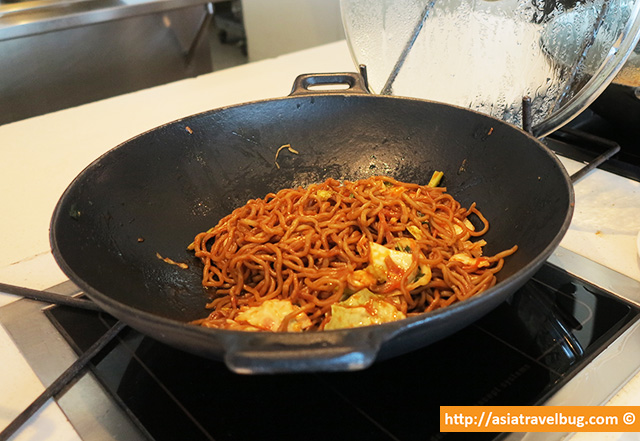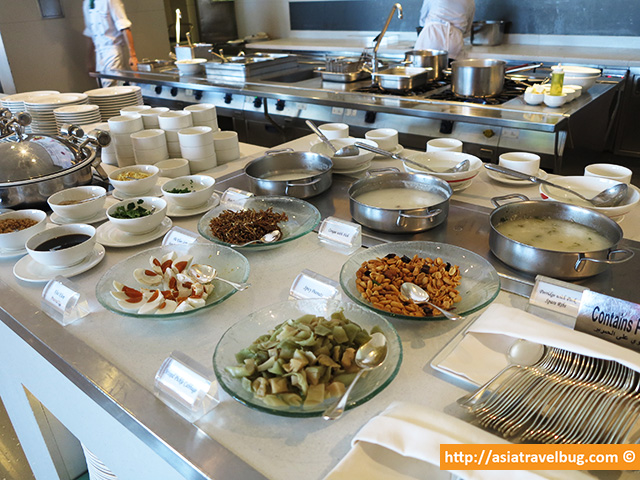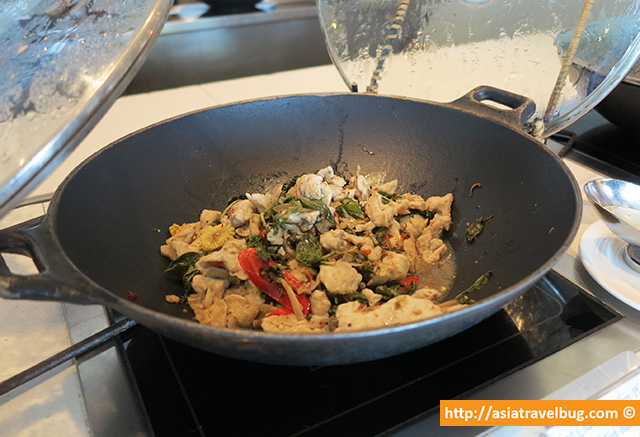 Bacons, sausages, hams are also available if you prefer a western breakfast.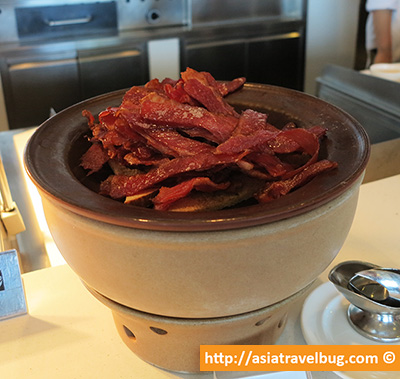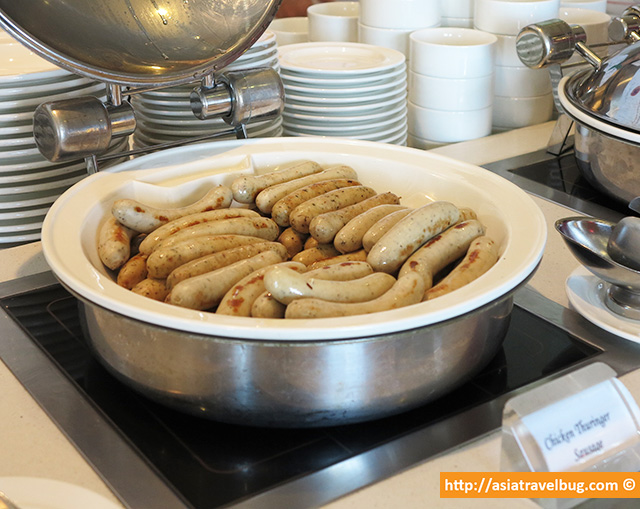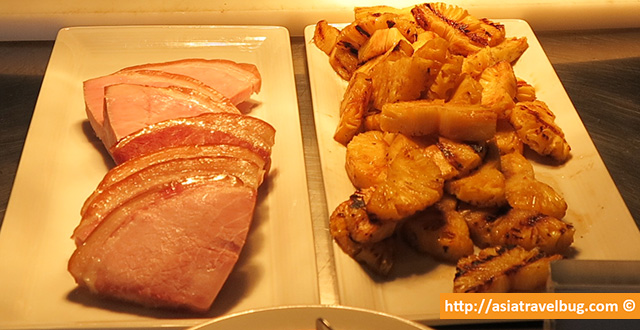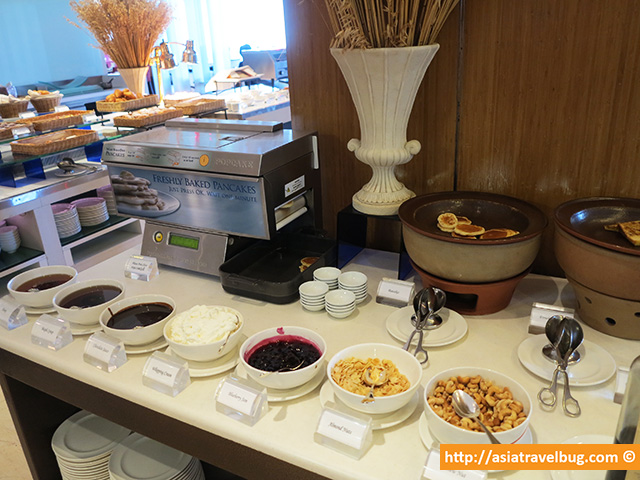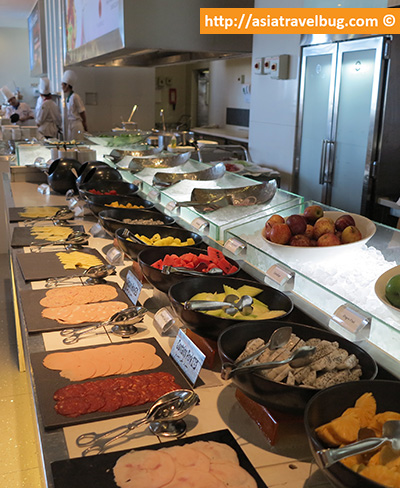 The pastries were good too, you should try for yourself!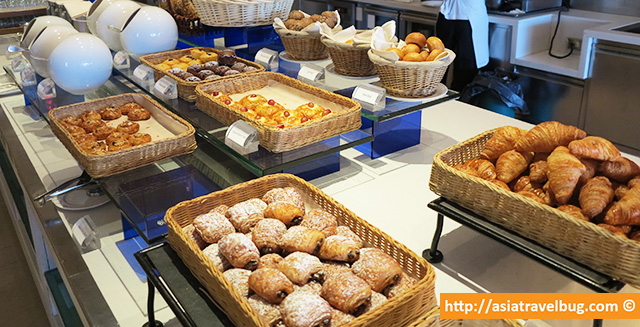 The Facilities
I realized that Centara Grand at Central World Hotel is a perfect place even for a staycation! The hotel's facilities are massive, modern and very clean. Would you believe that the hotel houses two tennis courts inside the building?!? No wonder, even local Thais flock to Lifestyles on 26, the hotel's wellness center located at the 26th floor. The swimming pool area is clean and very inviting. Lots of greeneries around, you wouldn't feel that you are in the middle of the city as you swim!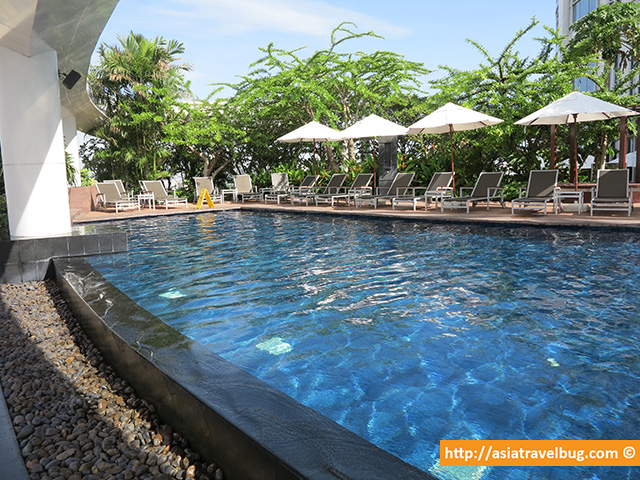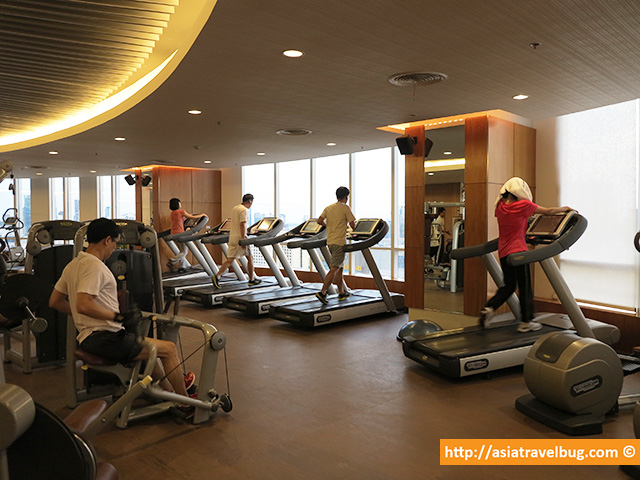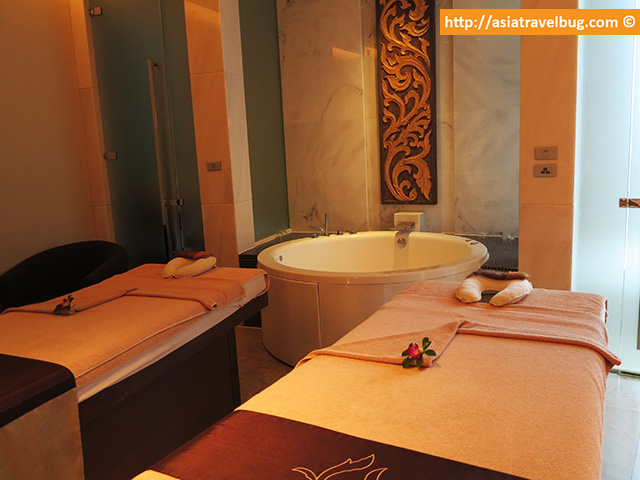 The Best Location
I love Centara Grand at Central World Hotel for its highly convenient location. It's location is surely an envy of other hotels in Bangkok! The hotel just sits on top of upmarket Central World shopping mall yet it is a stone throw's away to the Pratunam flea market area. Siam Paragon, the other popular mall, is just 3 minutes walk away. You just get the best of both shopping worlds. There are a lots of shops in Central World and Siam Paragon catering to mid-range to luxury budget. If you are looking for local clothing bargains, head to Pratunam flea market area just 10 minutes walk away from the hotel. The hotel is directly connected to the Central World's Bangkok Convention Center making it a great practical choice for business travelers too. I came to Bangkok primarily to attend a conference and the location of Centara Grand enabled me to do last-minute shopping in the evening after a full day spent at the convention.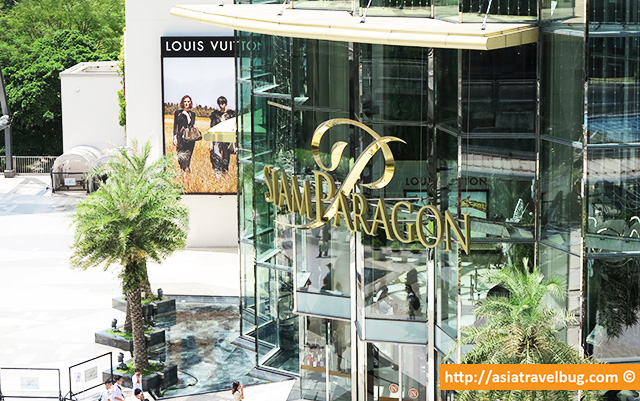 You will never run out of food choices as there are endless restaurants in Central World and Siam Paragon malls. Just like in Manila, the restaurants inside Bangkok malls are very affordable.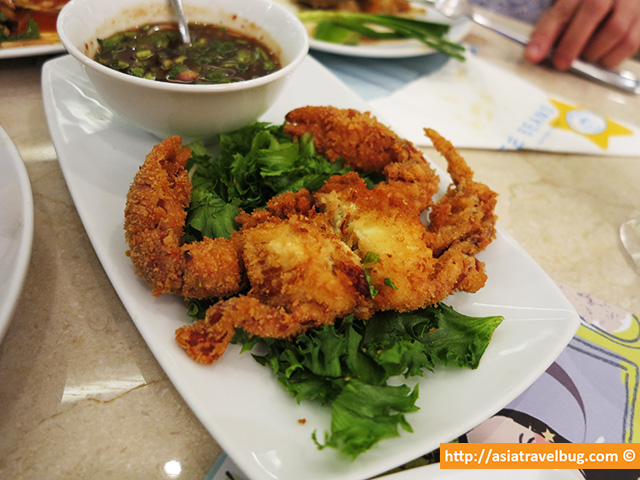 The immediate vicinity of Centara Grand at Central World Hotel is clean, safe and westernized. I prefer coming home to a hotel where sidewalks are walkable and not as chaotic as the "real Bangkok" areas. The location of your hotel can make or break your vacation and my stay in Centara Grand at Central World Hotel made my Bangkok trip a very pleasurable one!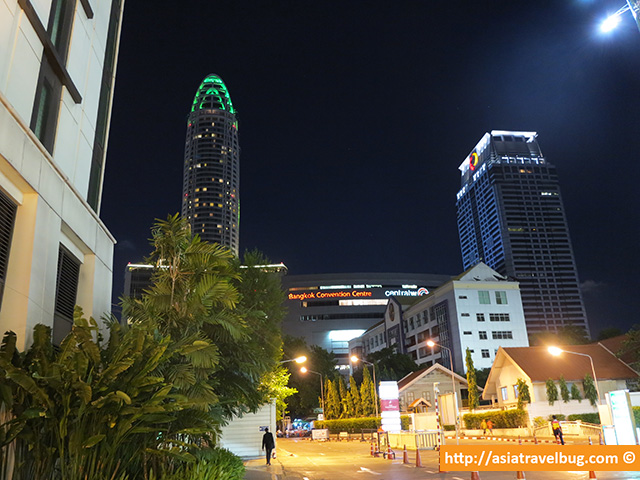 The location of Centara Grand at Central World is also highly strategic for exploring popular and lesser known tourist sites in Bangkok. Just 3 minutes walk away from the Centara Grand at Central World Hotel is Wat Pathum Wanaram, a huge temple sandwiched between Central World and Siam Paragon malls. I have been to the Siam area several times and never noticed this temple not until my stay in Centara Grand. My room overlooked this lovely temple complex so I visited one morning out of curiosity. The temple grounds felt very serene without a lot of people and not as touristy as the other temples in Bangkok. It was quite interesting to watch how the day to day lives of monks unfold.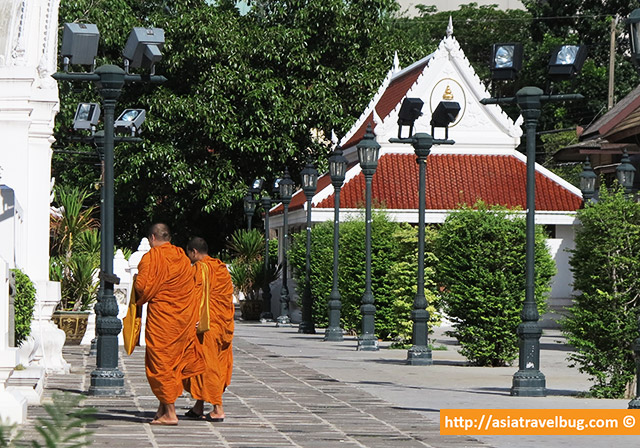 The Siam BTS interchange metro station is within 10-minute good walking distance from the hotel. Not too near yet not too far. Although Bangkok is generally safe even during the Thailand Coup, the BTS stations are often the grounds of protesters so it is a good idea to pick a hotel within a safe distance from the metro rail stations just like Centara Grand. I used the BTS extensively in my recent Bangkok trip and was able to get to my destination on time, safely and affordably. But most importantly, I avoided the crazy Bangkok traffic jams during rush hour! From BTS Siam, it will only take you less than 15 minutes to BTS Saphan Taksin – the jump off point for tours or boats going to the major tourist sites in Bangkok (Chao Pharaya River, Wat Pho, Wat Arun, Grand Palace, etc).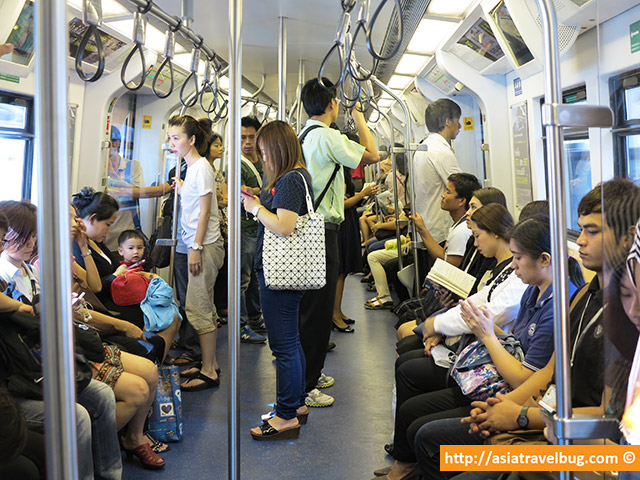 Other Tips
For better views from the room, request for a view facing Siam Paragon, Intercontinental Hotel or Big C Super Center.
Don't miss out the super stylish Red Sky bar at the 56th floor of Centara Grand at Central World Hotel! Get amazing Bangkok city views at a very convenient location. Drinks start at around 350 Baht (~USD 11) but you can avail buy one get one free during happy hour from 5pm to 7pm.
Register for the free Centara1Card to get complimentary internet across all Centara properties.
The Price
Superior rooms start at USD 120/night which is a sweet price for a 5-star hotel with a 5-star location! Club rooms are highly recommended and can be had for as low as USD 210/night with breakfast and lounge access. If you wish to elevate your experience, the massive 67 sqm. executive suite can be booked for as low as USD 360/night.
For families, there is currently an ongoing promotion until September 2014 called Family Discoveries Package for USD 150++/night. The promotion entitles guests to complimentary upgrade to Premium World room (54 sqm in size) with free daily buffet breakfast thrown in for free for a family of four. I think this is a fairly good deal with free cancellation allowed within 24 hours prior to arrival plus a 20% discount when you dine in the hotel's restaurants.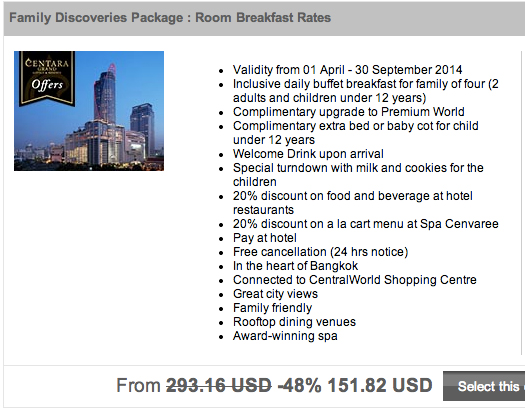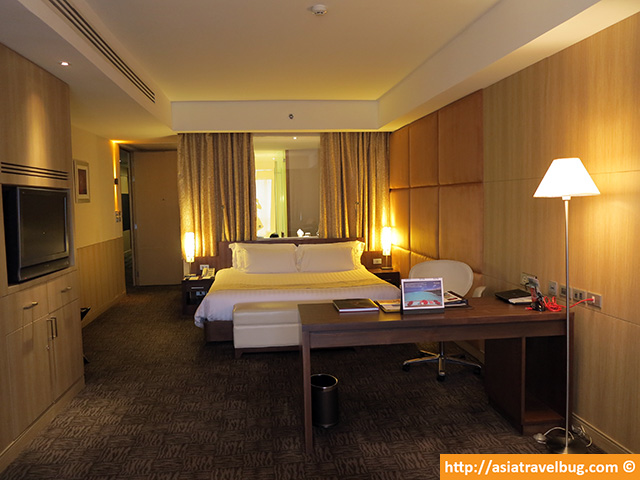 About Centara Grand at Central World Hotel
Centara Grand at Central World hotel is the flagship 5-star luxury hotel of Centara Hotels & Resorts, a regional hotel-chain with mid-range to luxury properties in Thailand, Vietnam, Indonesia, Maurtitius and Maldives.
Address: 999/99 Rama 1 Road, Bangkok 10330, Thailand
Booking: Online or via Email (cgcw@chr.co.th)
Disclosure: I was hosted by Centara Grand at Central World as part of the Digital Innovation Asia conference. However, all opinions on this blog are my own and reflect my first hand account experience.
Search smart and travel better with Asiatravelbug.  Looking for a convenient and comfortable place to stay in Bangkok? Search for the best hotel rates from over 100 sites in one click here.
Other Related Articles:
My Bangkok Travel Experience During the Thailand Coup
Red Sky Bar: A Great Roof Top Bar Experience in Bangkok
Things to Do in Bangkok for First Timers – A 5D/4N Bangkok Travel Itinerary
Bangkok Travel: Urbana Langsuan, Bangkok Airport & Yok Yor Dinner Cruise
Bangkok Travel: Taling Chan Floating Market via Thonburi Canals
Bangkok Travel: Wat Pho and Wat Arun Temples | A Cultural Immersion in Bangkok One Afternoon
Bangkok Travel: Grand Palace and How to Avoid Bangkok Scam Artists
Bangkok Travel: Jim Thompson House and BTS Sky Train Joy Ride