The exit of Kiyomizudera Temple led us to the very charming Higashiyama district. We felt transported back in time since the place was dotted with hundred year old houses with a lot of geishas and maikos strolling the streets. The young geishas we met were even kind enough for some photo op!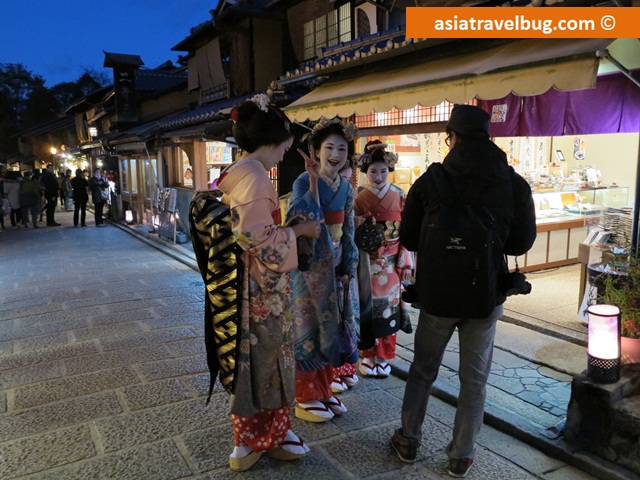 Higashiyama District
Admission: Free
How to get there: Exit of Kiyomizudera Temple.
There are lots to see and do within the Higashiyama Area, too bad we reached the place nearing sunset. Right outside Kiyomizudera temple are shops selling local delicacies.
As we walked past the local delicacy shops, we saw this big and cuddly Hello Kitty in Japanese kimono – how I wish I could take this home!
There are couple of restaurants within the area which were crowded with students. Tired from walking the full day, we made a short pit stop in a restaurant specializing in ice cream puff.
We ordered the green tea ice cream puffs and they were yummy – not too sweet with real green tea taste.
Pottery lessons are available in one of the shops.
Lovely hand made potteries up for sale.
These human drawn carriages add charm to the Higashiyama streets.
I think this is a well known Tofu place, the queue to order was very very long.
Group of geishas spotted!
The streets are charming despite a lot of people.
Another blast from the past photo, love the hundred year old homes.
At the end of the street is Ryozen Kannon temple.
We went back to Higashiyama streets to find place for dinner and spotted the same group of Geishas striking a pose for a photographer.
After 2 days of limited meat, finally we were able to find a restaurant serving generous portions of Katsudon. We ate like we have not eaten for weeks! It also made us realize that it's hard to live a vegetarian life. This is the Katsudon meal set from Kamanza Restaurant in Higashiyama area. Prepare 1000 to 1500 yen per person (USD 10 – 15).
We were supposed to head to Gion area after dinner but got lost on the way due to dark streets. We were really tired from all the walking and just took a cab back to our hotel. Despite of exhaustion, we enjoyed our experience today. However, it maybe a good idea to break your trip to Southern Higashiyama and Northern Higashiyama in two separate days.
Next: Japan Day 3 – Arashiyama – Sagano Scenic Train, Bamboo Groves and Tenjyuri Temple >>>>>

Looking for a more modern or futuristic Japan experience? Hop on the train and head to Tokyo. Check out our Tokyo travel blog to learn the Top 10 Awesome Things to Do in Tokyo for First Timers!
Looking for a convenient place to stay in Kyoto? Search for Kyoto hotels from over 100 travel sites in once click here.