Kyoto Itinerary with Side Trips to Osaka and Nara
(Autumn Foliage Trip)
While I was busy browsing travel inspirations online in the middle of last year, I stumbled across beautiful photos of fall foliage in Kyoto Japan. This brought back memories of my travel to New England where I experienced fall season for the first time. Living in a country where the season only changes from summer to rainy, experiencing a season which induces the trees to burst in bright neon colors is awesome!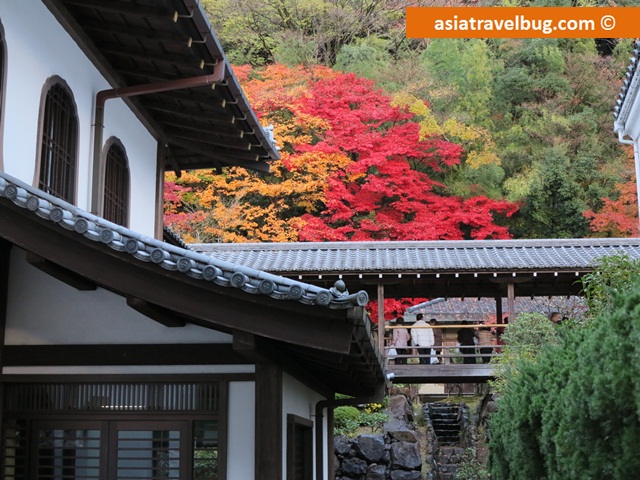 I usually travel during shoulder seasons to avoid the crowd and to take advantage of cheaper airfare and accommodation. However, the 2-week fall foliage season in Kyoto is too pretty to miss so I decided to travel during super peak for the very first time.
True enough, the hotel rates in Kyoto during the last 2 weeks of November skyrocketed to double up to quadruple. I originally planned to stay in a Ryokan to experience living like a local but unfortunately the well-located Japanese houses were fully booked already. Knowing that rooms are selling fast, I hurriedly booked a room in a central Kyoto hotel even if it's 4 months in advance. I'm glad I did and you should too if ever you plan to see the fall foliage in Kyoto. Remember, this is a super peak season and you don't want to end up with no place to stay during your vacation.
After hours of research, I finally patched up the following Kyoto Itinerary with side trips to Osaka and Nara. You may click on the links below to see my travel journal per activity.
Day 1 – Kyoto
1. Kansai Airport Arrival, Transit from Osaka to Kyoto with Haruka and Icoca Card
2. Check In: Hotel Monterey Kyoto
3. Nanzenji Temple and Eikando Temple Night Illumination
Day 2 – Kyoto
1. Tofokuji Temple and Fushimi Inari Shrine
2. Kiyomizudera Temple
4. Higashiyama District / Gion
Day 3 – Kyoto
1. Arashiyama
a. Sagano Scenic Train
b. Bamboo Grove
c. Tenjyuri Temple
2. Arashiyama Togetsukyo Bridge and Hiking Trail
3. Nishiki Market
4. Pontocho
5. Gion Corner
Day 4 – Kyoto and Osaka
1. Kyoto Imperial Palace
2. Train transfer from Kyoto to Osaka
3. Swissotel Namba Osaka Check-in
4. Dotonburi
Day 5 – Nara
1. Osaka to Nara
2. Yoshikien Garden
3. Nara Park
4. Kasuga Taisha Shrine
Day 6 – Osaka
1. Last minute Osaka Shopping
2. Transfer from Osaka Namba Station to Kansai International Airport
Japan Travel Budget for Kyoto Itinerary with Osaka and Nara 
Travelling in Japan has always been perceived to be very expensive, but after visiting Osaka, Kyoto and Nara in fall 2012 I realized it's partly true and partly a myth. Chunk of our travel budget in Japan went to hotel accommodation but the rates were surprisingly cheaper than similar class hotels in Hong Kong.
Japan Travel on USD 100 Budget a Day
Japan tourism ministry has been heavily campaigning that it is possible to travel in Japan in less than USD100 per day. Well, after travelling in Japan, I strongly feel that this is highly doable during off-peak or shoulder season even if staying in 3.5 to 4 star hotels. One can easily find decent 3.5 to 5 star hotels or Ryokans under USD150/night in Kansai region during non-peak season, way cheaper than hotels of similar class in Hong Kong.
I spent under USD150 per day during super peak season last fall 2012 when hotel rates in Kansai region were at double to quadruple. This budget already includes our 3.5 to 4 star hotel accommodation, transportation, temple entrance fees and food. Our 2 night stay in Osaka even included executive lounge access in Swissotel Namba. Please refer to above table for my actual Japan travel expense breakdown. Though the trip to Japan is my most expensive trip within Asia, I find it to be great value for money and well worth of its price tag. My one week trip in Osaka, Kyoto and Nara Japan afforded me unique experiences which I'm unable to find anywhere in Asia. Where else in Asia can you see a lovely scene like below?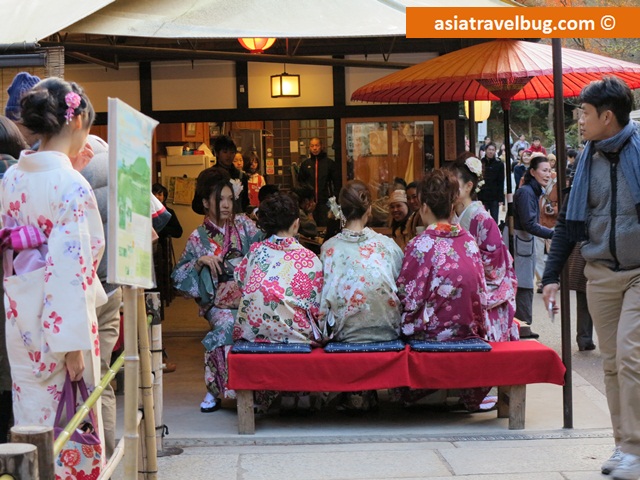 Transportation in Kansai Region
Is transportation in Japan really expensive? I say it's true relative to public transportation in other Asian cities. The subways and railways are very efficient though covering almost all parts of the city and major tourist sites. Cab drivers are polite and honest, it is normal for them to return change up to the last cent.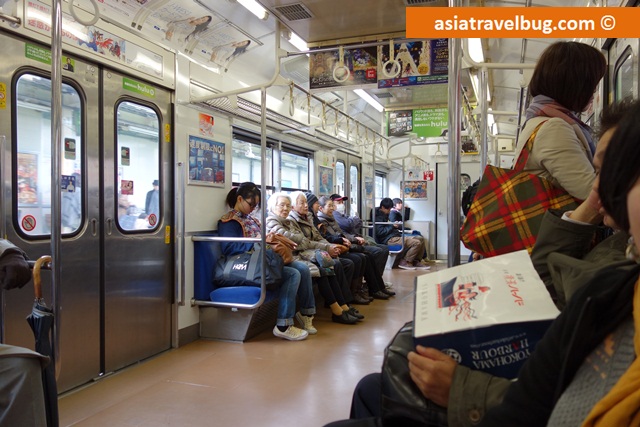 Subways and railways: Fare starts as 210 yen (USD 2.25), check hyperdia.com for schedules and fees. There are special passes available for tourists like Haruka & Icoca cards available in JR ticket stations, just make sure to bring your passport to avail these discounted tourist pass.
Taxi: Flag down rate for first 2km is 640 yen (USD 7). A 15 minute ride will cost approximately 1000 yen (USD 11).
Bus: There is 500 yen (USD 5.50) one day bus pass in Kyoto.
Sagano Scenic Train in Kyoto: 600 yen (USD 6.50) for one way. Tickets are available in JR ticket stations and in Sagano railway ticket station. I strongly recommend you to book tickets in advance especially during peak season.
Asiatravelbug Japan travel tip: 
Afraid to get lost in your do-it-yourself Japan tour? A pocket wifi can be you travel best friend. Book a pocket wifi in Japan to access Google Maps and Hyperdia while on the go! I have personally used Pupuru pocket wifi in Japan can recommend it highly. Make sure to book one before you go! Check out 5 reasons why you need pocket wifi in Japan here.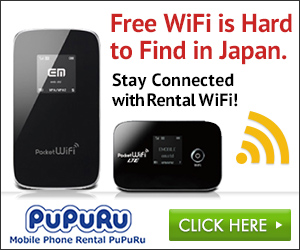 Hotel Accommodation in Kyoto and Osaka
Since the public transportation cost in Japan is quite high, I strongly recommend travellers to stay in central areas near tourist sites. We stayed in Hotel Monterey Kyoto which is well-located in central Kyoto with an easy access to subway. In Osaka, we checked-in ourselves in Swissotel Nankai right smack in the Namba downtown area. The subway straight to Kansai Airport is also right below Swissotel Nankai so the location of this hotel is unbeatable in terms of convenience. Both of these hotels are squeeky clean and are great value for money. These two hotels are highly recommended by Asiatravelbug. I will post a more detailed review of Hotel Monterey Kyoto and Swissotel Nankai Osaka in my next blog entries, so stay tuned!
Temple Entrance Fees in Kyoto and Nara
The entrance fees of temples in Kansai region average between 300 to 500 yen (USD 3.25 to USD 5.50) but some temples with great fall foliage like Eikando Temple charge up to 1000 yen (USD 11.00).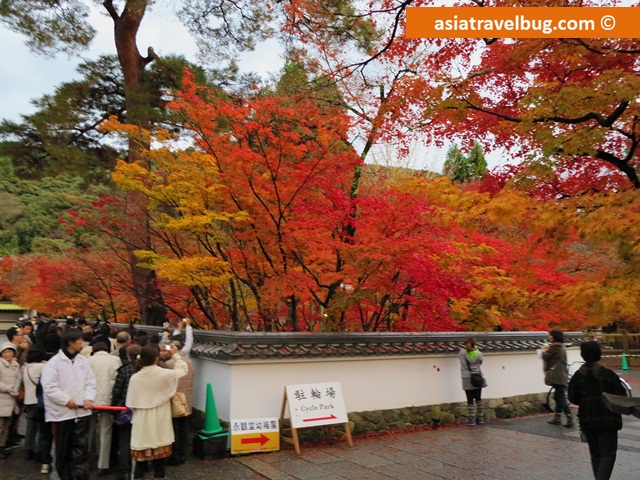 Food in Kyoto and Osaka
Food is generally quite expensive in Japan but there are a lot of cheaper alternatives if you know where to hunt. Here are some interesting food facts in Kyoto and Osaka.
1. Restaurants just outside temples or shrines are generally expensive and meatless. Restaurants outside these temples average between 1000 to 1500 yen per meal (USD 11 – 16).
2. Restaurants in Arashimaya are cheaper than in Central Kyoto. Meals like Chicken Karaage rice costs between 500 to 800 yen (USD 5.50 to USD8.50) in Arashimaya.
3. I always get my breakfast stash from Family Mart in Kyoto. They have pork buns for 100 yen (USD 1) each.
4. Circle K convenience store sells Yakitori (pork or beef barbeque sticks) for 150 yen (USD 1.75).
5. You can buy a decent chicken sandwich in McDonald's in Japan for 100 yen (USD 1), way cheaper than buying the same sandwich in McDonald's of other neighboring Asian countries.
6. Basement of major department stores like Takashimya functions as food paradise. Nicely decorated sushi meal boxes sell for 500 yen (USD 5.34) and up.
Next: Kansai Airport Arrival, Transit from Kansai Airport to Kyoto with Haruka and Icoca Card >>>>
Looking for a convenient place to stay in Kyoto or Osaka? 
Asiatravelbug suggests that you book with Agoda for best rates.

Other Japan Travel Tips:
People Who Viewed This Article Also Read:
Osaka:
 My First Jetstar Asia Experience – From Manila to Osaka
Osaka, Kyoto & Nara: My First Japan Trip! Osaka, Kyoto and Nara Japan Travel Itinerary
Osaka & Kyoto: Kansai Airport Arrival, Transit from Kansai Airport to Kyoto with Haruka and Icoca Card
Kyoto: Hotel Monterey Kyoto Review
Kyoto: Exploring Nanzenji Temple and Eikando Temple in Kyoto for Free
Kyoto: Kiyomizudera Temple Kyoto
Kyoto: Exploring Higashiyama District in Kyoto
Kyoto: Tofokuji Temple and Fushimi Inari Shrine
Kyoto: Arashiyama – Sagano Scenic Train, Bamboo Groves and Tenjyuri Temple
Tokyo: 10 Awesome Things to Do in Tokyo for First Timers
Tokyo Akihabara: 10 Surprising "Only in Japan" Moments Not to Miss in Tokyo
Tokyo Itinerary 7 Days
Where to Stay in Tokyo First Time
Mount Fuji: The Geeky Guide to See Mount Fuji at its Best
Love this article? Share this with your friends or travel buddies using the social share buttons below!