I originally planned to stay in a Ryokan (Japanese style home) for my autumn foliage trip in Kyoto last November. Since the last two weeks of November fall under super peak season in Kyoto, the well-located ones have already been fully booked even if I tried to reserve 4 months in advance. I contacted more than 20 Ryokan owners and was only able to receive one response so it was a very frustrating experience. In the end, I gave up my plan and just booked a hotel instead. Well, staying in a Japanese Ryokan remains to be in my travel bucket list and I wish I will have better luck in reserving one next time.
Hotel Monterey Kyoto Room Rate
Out of all hotels in central Kyoto, I found the rates of Hotel Monterey Kyoto to be reasonable even during super peak season. Due to very high demand, other hotels within the vicinity have increased rates to triple up to quadruple for November stays.  I booked a superior room online for USD 300.00/night which might look quite steep at first for a 3.5 star hotel. But considering that other similar class hotels charge USD 400.00/night and up during the same period, the rates of Hotel Monterey Kyoto is relatively reasonable. During non-peak season, one can easily stay in Hotel Monterey Kyoto for less than USD 150.00/night.
The Location
From Kyoto Train Station, we took a cab and in 10 minutes we arrived in Hotel Monterey Kyoto. The ride costed us about 900 yen (USD9.50).  The hotel is located in the quiter side of Kamasuma-dori with wide sidewalks dotted with office buildings, away from the maddening tourist crowd in Gion area. There are two convenience stores beside and across Hotel Monterey Kyoto where you can get your cheap breakfast or dinner fix.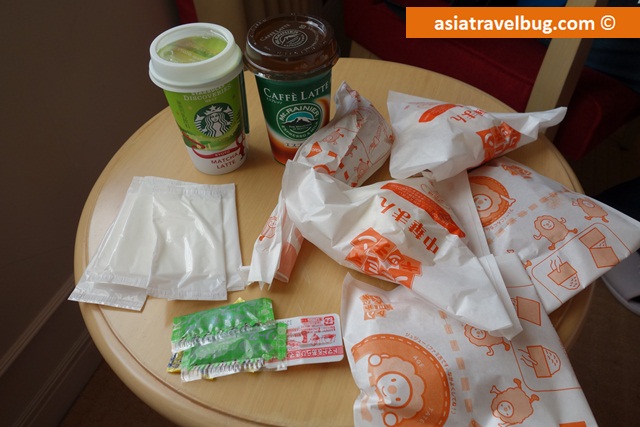 With the Karasuma-Oike subway station 3 minutes walk from the hotel, I find Hotel Monterey Kyoto to be a great base for touring Kyoto's wonders from the well-preserved Higashiyama temples in the east to the colorful Arashiyama mountains in the west. Karasuma-Oike station is a junction of two main subway lines in Kyoto, one is the Karasuma line which takes you to Kyoto Train station and the other one is Tozai line which takes you to Higashiyama area. The hotel is also a 20 minutes walking distance to Nishiki market. There are also plenty of cabs just outside the hotel if you don't feel to walk.
Our Superior Room
I would say Hotel Monterey Kyoto is so far the best 3.5 star hotel which I've stayed in. Our superior room is 26 sqm in size with two over-sized single beds. Though the room is on smaller side, we didn't feel cramped at all since all space is intelligently utilized. The room is surprisingly British-themed and the only sign that you're in Kyoto are the Japanese green tea packets which gets replenished everyday.
Here's the two over-sized single beds.
The room is squeeky clean and I truly appreciated the hotel's strong attention to detail. Pajamas, room slippers and bathroom slippers are provided.
All bathroom amenities are replinished everyday without fail. And the best part of all, the hotel provides with free in-room wifi!
Hotel Monterey Kyoto is strongly recommended by Asiatravelbug for its central location, great service and squeeky clean rooms!
Next: Exploring Nanzenji Temple and Eikando Temple in Kyoto for Free >>>>>
Looking for a more modern or futuristic Japan experience? Hop on the train and head to Tokyo. Check out our Tokyo travel blog to learn the Top 10 Awesome Things to Do in Tokyo for First Timers!
Looking for a convenient place to stay in Kyoto? Search for Kyoto hotels from over 100 travel sites in once click here.