Kansai Airport Arrival
After a very turbulent flight, we finally landed in Kansai International Airport Terminal 1 close to 1:00 pm. It's quite surprising to see that the airport was rather empty despite arriving in Osaka during super peak season. We were able to get through immigration, baggage claim and customs fairly fast! We took some maps from the Kansai Tourist Information Center before we headed out of the airport. The maps proved to be really helpful in our first Japan adventure especially during the times when we felt lost in Osaka, Kyoto and Nara. Next, we headed towards the train station to purchase airport transfer tickets from the Japan Railway (JR) Ticket Office. Learn more about Haruka Icoca Card in this blog and see how it can save your cost by half for transfers direct from Kansai Airport in Osaka to Kyoto Station.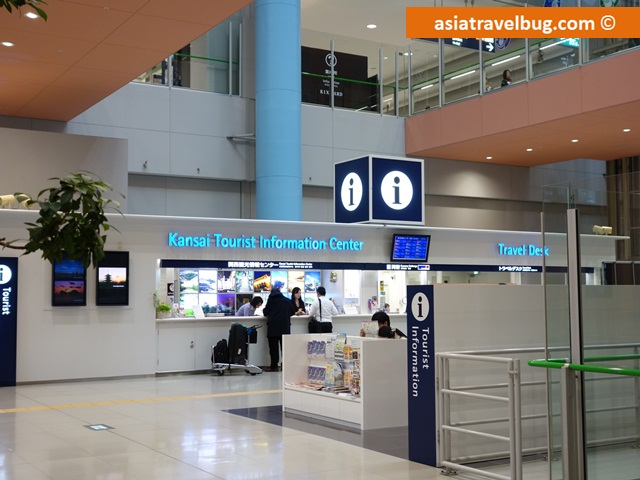 Haruka Icoca Card Package: Transit from Kansai Airport to Kyoto at Discounted Train Fare
Just outside Kansai International Airport Terminal 1 is the JR Kansai Airport Ticket Station. We were greeted with a long queue with about 15 people in line in front of us. But thanks to the efficient staffs in the JR ticket station, we got our Haruka Icoca cards within 30 minutes! Haruka Icoca Card Package is a combination of a transit card (Icoca) and a deeply discounted Kansai Airport Express Train ticket (Haruka) from Kansai Airport in Osaka to Kyoto Station. Take note that the Haruka Icoca Card Package is only available to foreigners with short term stay. To be qualified, you need present your passport and return airfare upon purchase in the JR ticket station. Also, you can only purchase this package once throughout the duration of your stay.
Asiatravelbug's Japan Travel Tip: If travelling during peak season, you can reserve and purchase Sagano Scenic Railway tickets in JR ticket stations.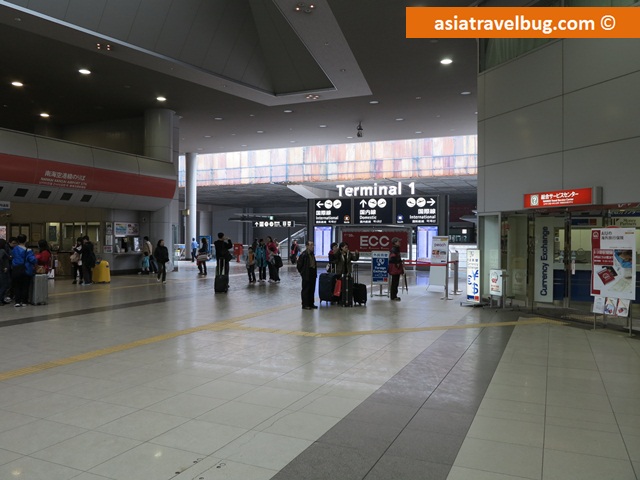 We opted for the one-way Haruka Icoca Card Package since we will be returning to Kansai Airport from Namba station in Osaka, a station which is not covered by the Haruka Kansai Airport Express line. The one-way Haruka Icoca card costed us 3,000 yen each (~USD 30) which is fairly a good deal considering the following benefits.
1. Reduced one-way ticket fare from Kansai International Airport to Kyoto Station at only 1,000 yen (~USD 10). This gave us 830 yen (~USD 8) discount per person since the regular one-way Haruka ticket costs 1,830 yen (~USD 18). This translates to 45% in savings.
2. A prepaid Icoca card loaded with 1,500 yen (~USD 15).
3. A 500 yen (~USD 5) refundable Icoca card deposit.
2014 Update: Due to sales tax increase in Japan, the prices of Haruka Icoca cards have been increased as follows:
> One way Haruka Icoca Card Package – 3,030 yen (~USD 30)
> Round trip Haruka Icoca Card Package – 4,060 yen (~USD 40)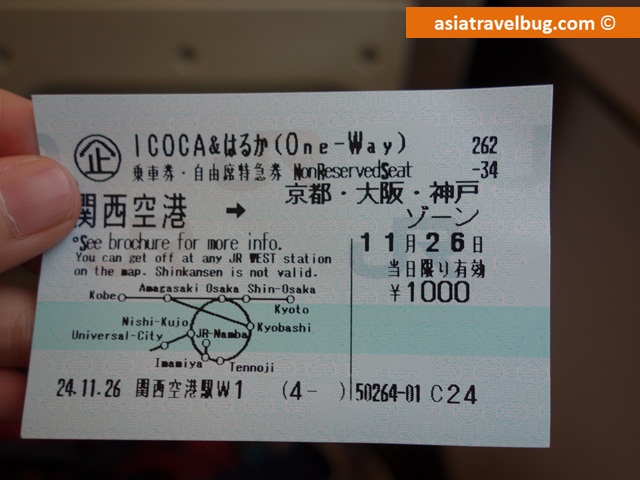 The Icoca card functions similar to Hong Kong's Octopus prepaid card which can be used in trains (different train companies not just JR), buses, convenience stores, supermarkets and various shopping establishments. You can check train schedules using hyperdia.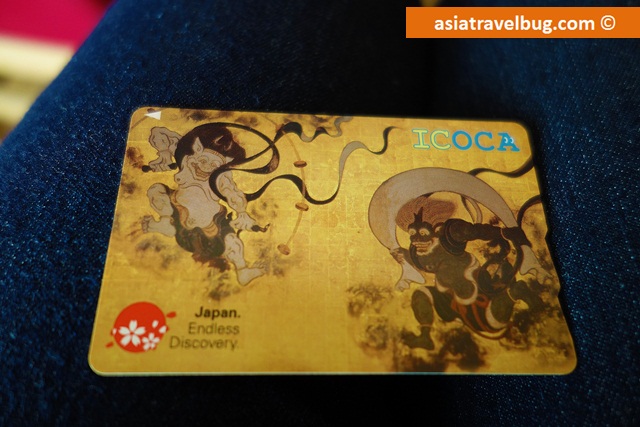 Asiatravelbug's Japan Travel Tip: The Haruka Icoca Card Package is highly recommended by Asiatravelbug. Apart from 45% discount in Haruka Kansai Airport limited express ticket, the Icoca card is very convenient which you can use almost everywhere in Kansai region. Most of the unlimited rail passes offered by JR West are restricted to JR trains only. In Kyoto and Osaka, trains are operated by different train companies so having an Icoca card is the best bet to go. Also, you will only pay for what you use.
Kansai Airport to Kyoto via Haruka Limited Express Train
So here's the Haruka Kansai Airport Limited Express train bound for Kyoto. Due to high number of people wanting to see Kyoto's famous autumn foliage, the train station looks a bit chaotic at first glance. However as the train approached, the passengers naturally formed a queue while waiting for the train doors to open. We got our first taste of Japanese discipline here.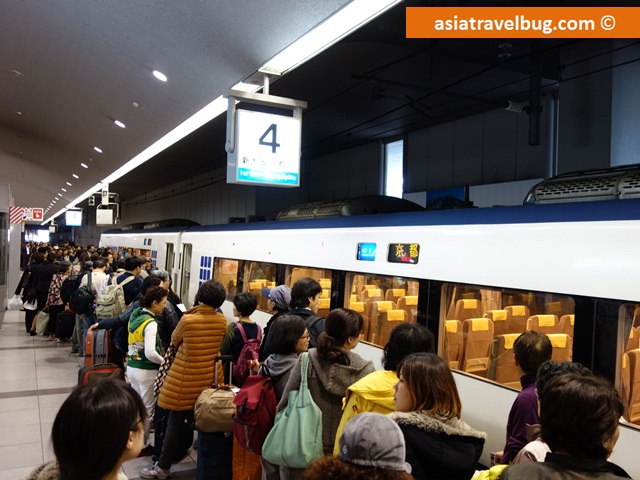 The inside of the train is very clean. The chairs are very comfortable and spacious, definitely a first class public transportation even for non-reserved seats.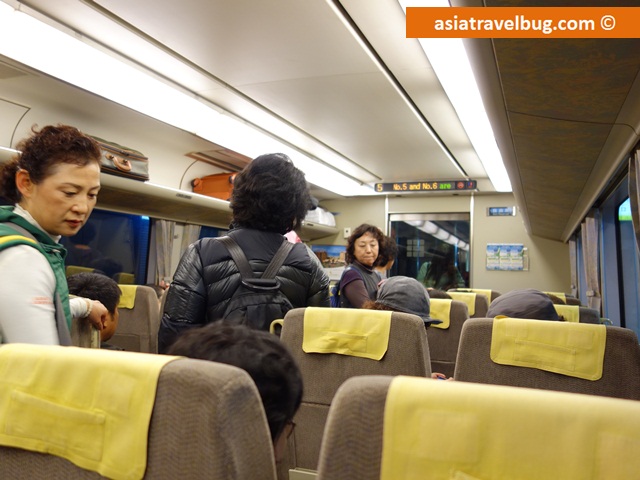 I was quite surprised to see lots of farmlands on our train ride to Kyoto. I think these are Japanese rice paddies.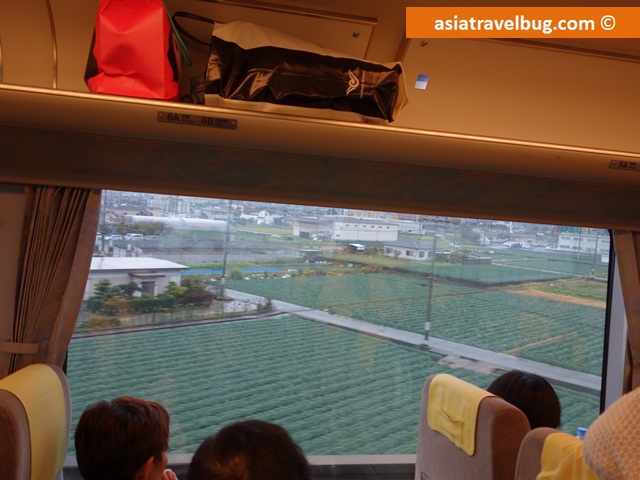 The 75-minute train ride from Kansai Airport to Kyoto flew by so quickly! Finally we arrived in JR Kyoto Station.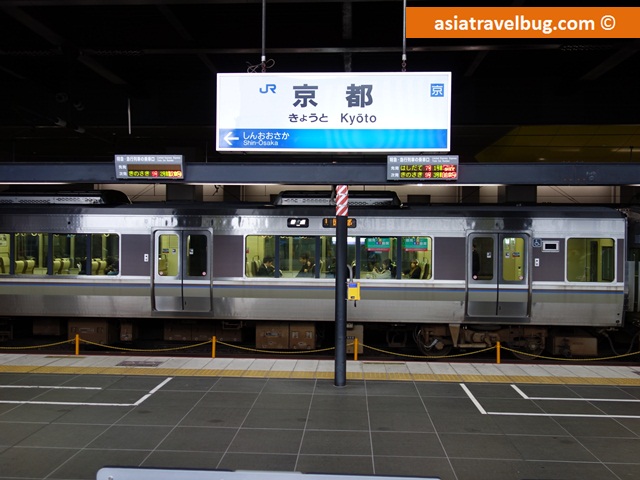 The JR Kyoto Station is huge and has some nice architecture.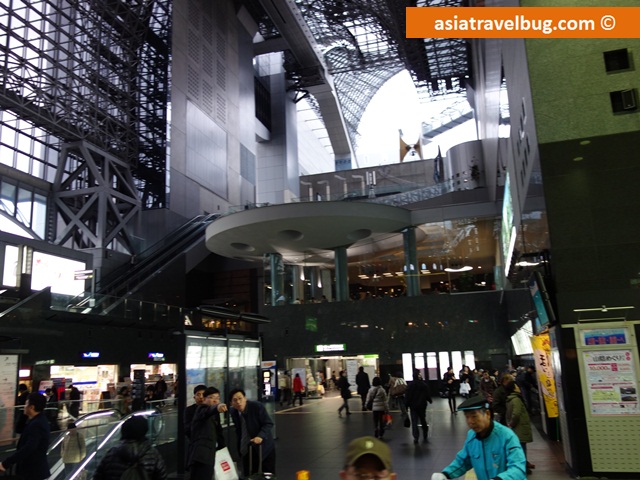 Since we have lots of luggage, we chose to take a cab to Hotel Monterey Kyoto. Here is the taxi bay just outside Kyoto train station, how convenient!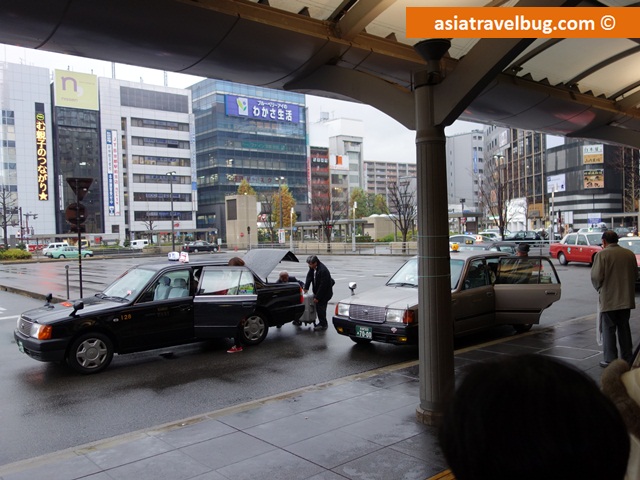 Other Japan Travel Tips: