When in Bangkok, a roof top bar experience in a 5-star hotel is a must and Red Sky Bar is now my new favorite! Bangkok has always been a good place to find affordable luxuries. Upmarket travel experiences can be had in Bangkok for a fraction of the cost of similar experiences in highly developed countries.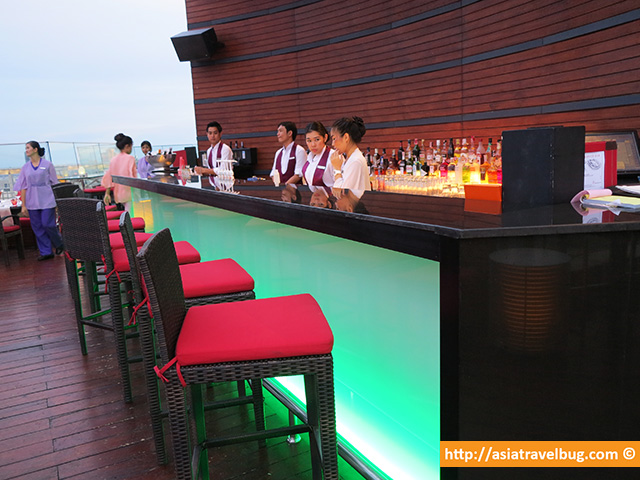 Red Sky Bar
I have been to several other roof top bars in Bangkok including Lebua's Sky Bar and Marriott Sukhumvit's Octave Bar. Both of these sky bars have amazing city views. However, the 360-degree amazing city views, live jazz band music, convenient location, relaxed environment and plenty of seats to lounge around make Centara Grand's Red Sky Bar a league of its own! I find the location of Red Sky to be extremely convenient right smack in Bangkok's Central Shopping district. After shopping in Central World or Siam Paragon, why don't you head to the 56th floor of Centara Grand and experience Red Sky Bar for yourself? I'm sure it will not disappoint. I find Red Sky Bar to be a better value for money than the most popular observation deck in Bangkok.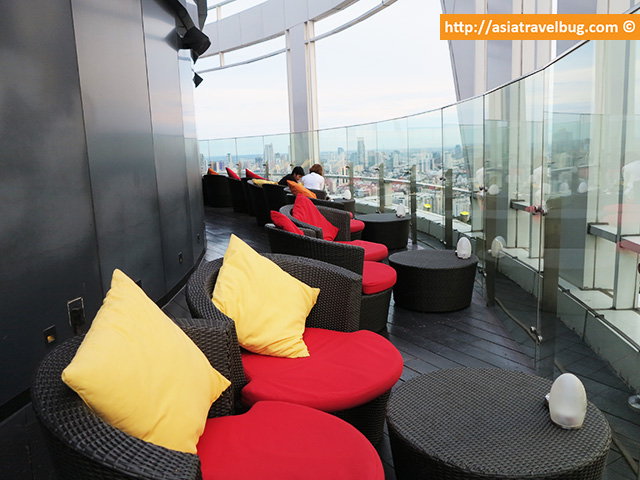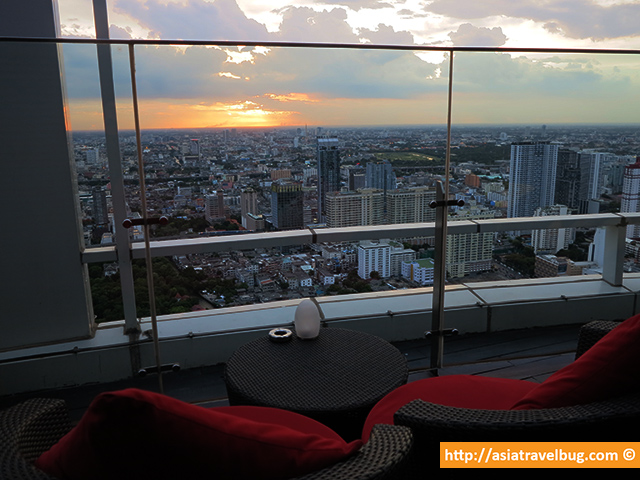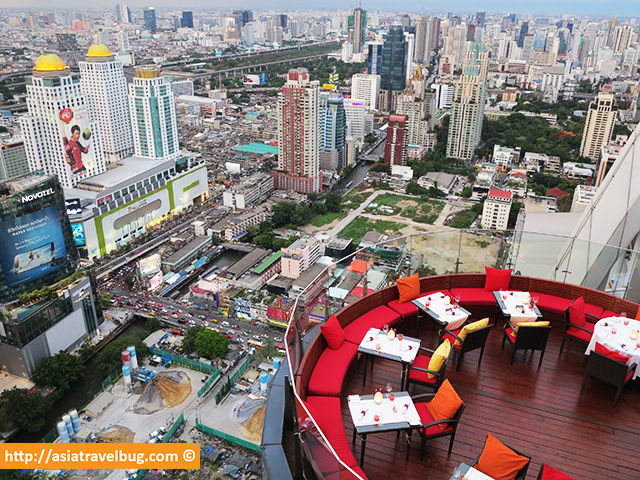 Would you believe that Red Sky Bar even has beds where you can relax and unwind as you sip your cocktail and wait for the sunset? That's pure bliss!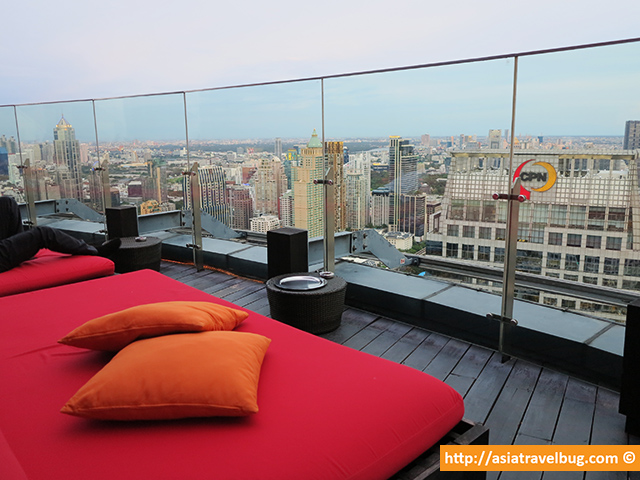 Drinks start at around 350 Baht (~USD 11) but you get a very good deal during happy hour from 5pm to 7pm when drinks are buy one take one. You will end up paying less during the happy hour in Centara Grand's Red Sky Bar than heading up to the famous Bayoike Sky Observation Deck. For a price a little over than your Starbucks latte, you get to enjoy 5-star hotel ambience, see a lovely bird's eye view of Bangkok's city skyline, watch an amazing sunset and get a cocktail drink! The happy hour is indeed a perfect time to give yourself a treat.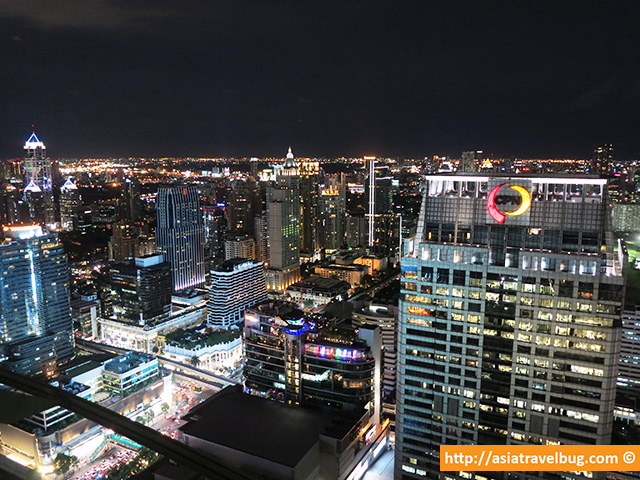 Starting at 7:15 in the evening, you get to enjoy live jazz music performance from a band in Red Sky Bar. The Bangkok city skyline from Red Sky Bar transforms into a totally different scene after sunset and is even more breathtaking! My favorite view at night is from the 56th floor overlooking the 55th floor restaurant. Considering the "overall 5-star roof top bar experience" you get to receive in Red Sky Bar, I think that the price you pay even for a full-priced drink is a bargain!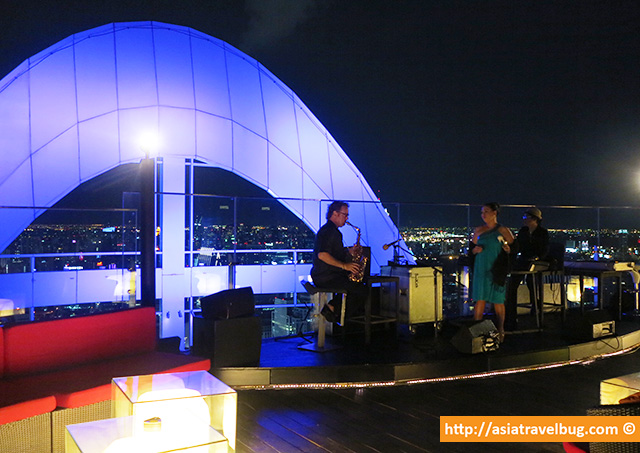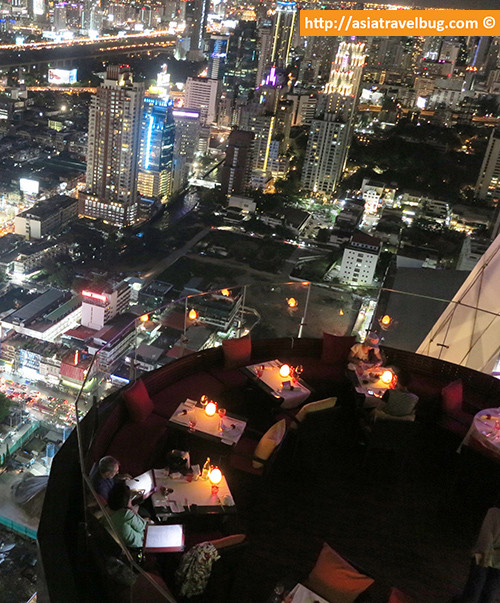 Red Sky Restaurant and the Perfectly Cooked Wagyu Beef
I was lucky to have been hosted by Centara Grand at Central World Hotel for a dinner in Red Sky Restaurant. As the elevator opened in the 55th floor, I was immediately wowed by the restaurant's very chic interiors!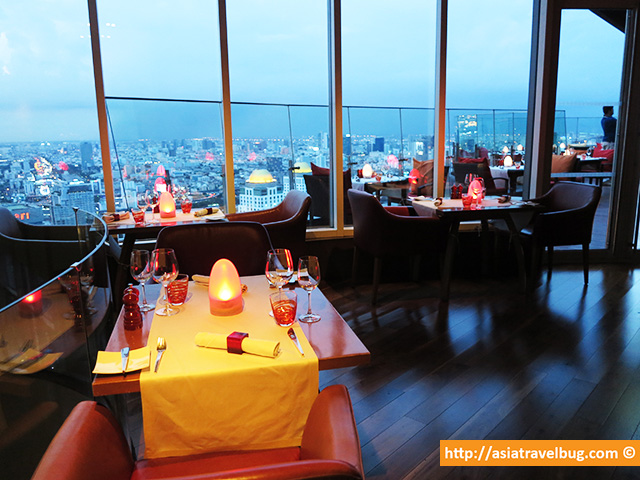 We were escorted to our table in the outdoor area and enjoyed the fantastic city views similar to Red Sky Bar. I really love the ambiance of Red Sky Restaurant, it's very modern and felt really cozy. This fine-dining restaurant is a a perfect place for couples, but should be great for colleagues and families as well.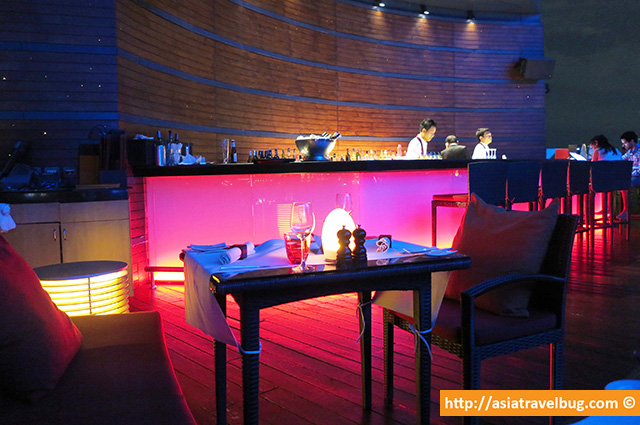 After being distracted by the amazing city views and cozy ambience, we settled in our assigned table and the server came in immediately to take our orders. We ordered the King Crab Salad, a Surf and Turf Seafood-Meat Tower and a Wagyu Beef Rossini. The service was pretty fast and servings for the mains were huge! I think our order is good for four people.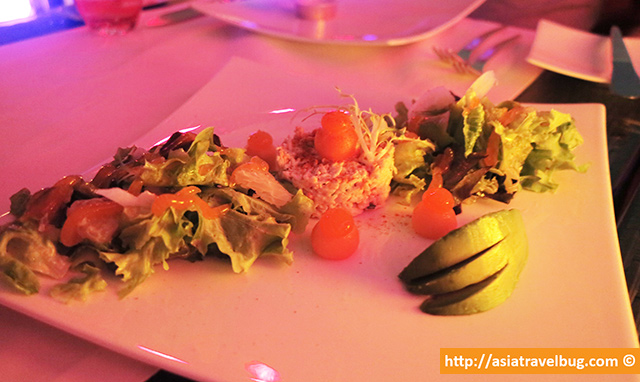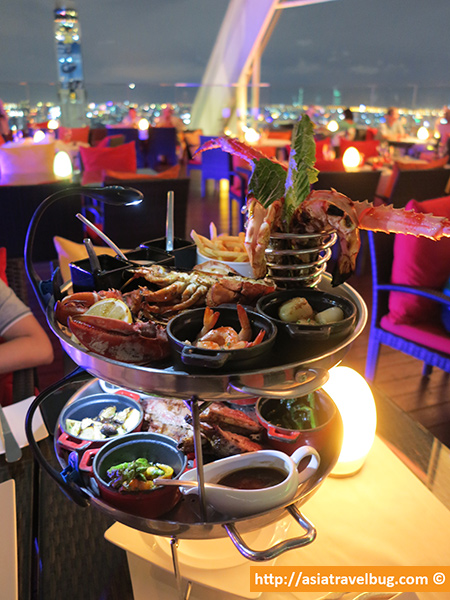 We love the Maine lobster in the Surf and Turf rack but the Wagyu Beef Rossini is the star! We had the Wagyu Beef in medium well and it was cooked by the chef to to perfection, still tender and just melts in your mouth. If you dine in Red Sky Restaurant, make sure to order the Wagyu Beef Rossini. The mere thought of that Wagyu experience makes me want to fly to Bangkok now and order it again!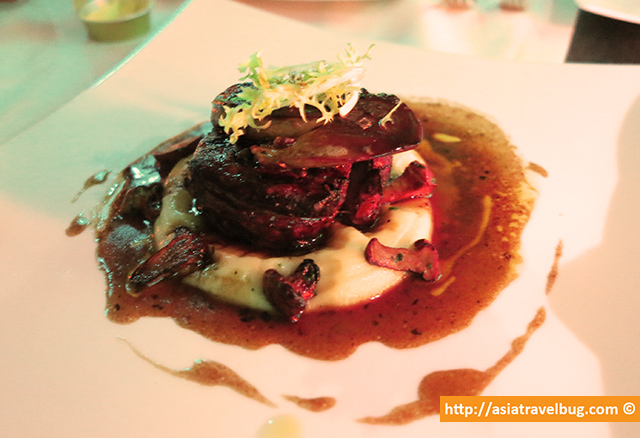 Prices in Red Sky Restaurant are on par with other fine-dining restaurants in 5-star hotels but you get the fantastic views of Bangkok skyline as a bonus. This restaurant is definitely a good choice for celebrating special occasions with its cozy ambience, excellent service, great food and mouth-watering Wagyu!
About Red Sky Bar and Restaurant
Red Sky is the roof top bar-restaurant located at the 55th and 56th floor of Centara Grand at Central World hotel, currently the fifth highest tower in Bangkok.
Dress Code: Smart Casual
Budget: Red Sky Bar (Drinks start at ~USD 11); Red Sky Restaurant (~USD 60 – USD 90 per person, depending on your order)
About Centara Grand at Central World Hotel
Centara Grand at Central World hotel is the flagship 5-star luxury hotel of Centara Hotels & Resorts, a regional hotel-chain with mid-range to luxury properties in Thailand, Vietnam, Indonesia, Maurtitius and Maldives. The hotel can easily be accessed and is located right smack in the heart of the Siam central shopping district in Bangkok. The hotel just sits on top of Central World mall.
Address: 999/99 Rama 1 Road, Bangkok 10330, Thailand
Disclosure: I was hosted by Centara Grand at Central World as part of the Digital Innovation Asia conference. However, all opinions on this blog are my own and reflect my first hand account experience.
Search smart and travel better with Asiatravelbug.  Looking for a convenient and comfortable place to stay in Bangkok? Search for the best hotel rates from over 100 sites in one click here.
Other Related Articles:
My Bangkok Travel Experience During the Thailand Coup
Hotel Review: A Fantastic Stay at Centara Grand at Central World Hotel Bangkok
Things to Do in Bangkok for First Timers – A 5D/4N Bangkok Travel Itinerary
Bangkok Travel: Urbana Langsuan, Bangkok Airport & Yok Yor Dinner Cruise
Bangkok Travel: Taling Chan Floating Market via Thonburi Canals
Bangkok Travel: Wat Pho and Wat Arun Temples | A Cultural Immersion in Bangkok One Afternoon
Bangkok Travel: Grand Palace and How to Avoid Bangkok Scam Artists
Bangkok Travel: Jim Thompson House and BTS Sky Train Joy Ride