Mount Fuji is notoriously shy showing up only 80 days in a year. It is a sad reality that anyone will only have 20% chance of seeing Mount Fuji. But there is a good news – with the right combination of luck and proper planning, you will be able to increase your chances of seeing Mount Fuji in its full glory!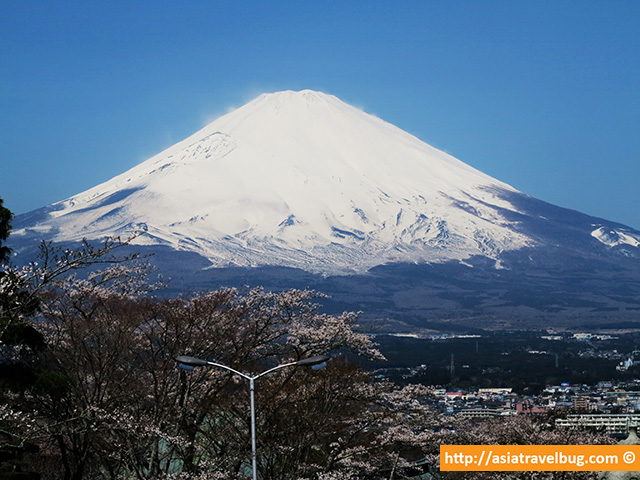 I have been to Tokyo two times and was lucky enough to see Mount Fuji on separate occasions from different vantage points. Just like any first time traveler to Tokyo, the urge to see the beauty of Mount Fuji is so strong and I just can't ignore it. Mount Fuji is beautiful in photos but it is more amazing when you get to see it up close with your own eyes! The first time I saw Mount Fuji at the close distance, I just stood in awe for a few minutes and the feeling was indescribable. That moment was just so peaceful and extremely serene. So now, let me share with you some geeky yet practical tips on how and where to see Mount Fuji.
How Do I Increase My Chances of Seeing Mount Fuji?
1. Monitor the cloud forecast in Shizuoka Japan on top of the weather forecast. Mount Fuji is best seen at a cloud forecast of 10% or less based on my observation.
Shizuoka is the home of Mount Fuji so if you are planning to go to Hakone, Gotemba or anywhere in the Fuji Five Lakes Area, you have to check the weather in Shizuoka and not just in Tokyo. Shizuoka is approximately 2 hours away by bus or train from Tokyo, so the weather could be different.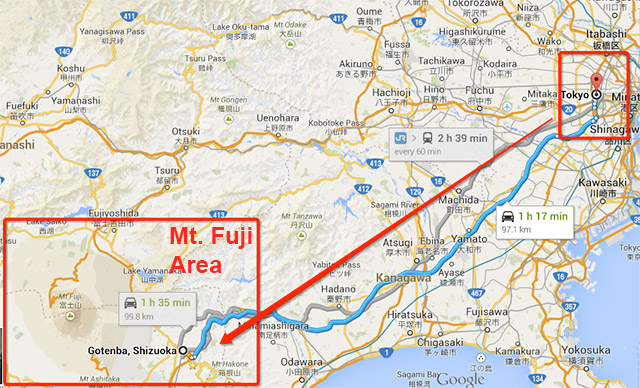 The cloud forecast is a more accurate gauge whether you will be able to see Mount Fuji or not. It is possible to be a sunny day but hazy at the same time. Based on my experience, a cloud forecast of 10% or below is good!  All Mount Fuji photos in this blog post are taken with <10% cloud factor except for the photos taken in Owakudani and from the plane. You should be able to see Mount Fuji with a clear blue sky at close distance at 9 am using the sample cloud forecast in Shizuoka below.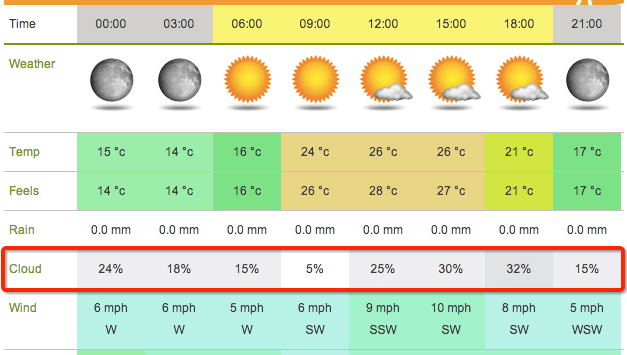 At 30% cloud forecast, the view of Mount Fuji from a close distance is already hazy and the chances of seeing it from afar are slim. This is a photo taken in Owakudani in Hakone with 30+% cloud forecast in the afternoon. I was no longer able to see Mount Fuji when I got to Lake Ashi. At this cloud level, I think you are unlikely to see Mount Fuji from afar in Tokyo.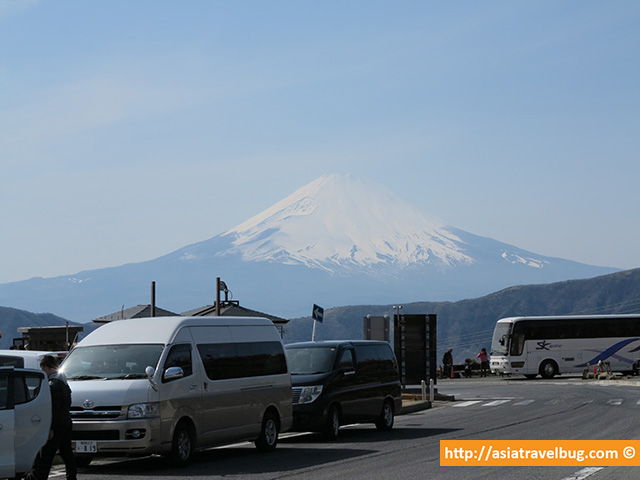 If you plan to see the tip of Mount Fuji from afar in one of the viewing decks in Tokyo, you should also monitor the cloud forecast in Tokyo aside from Shizuoka.
2. Wake up early.  People say that Mount Fuji can be better seen earlier in the day rather than in the afternoon. I think this is true. I've personally seen Mount Fuji on separate occasions slowly fading away as the day progresses to the afternoon. However, this doesn't mean that Mount Fuji cannot be seen during afternoons, just check out the cloud forecast and plan accordingly.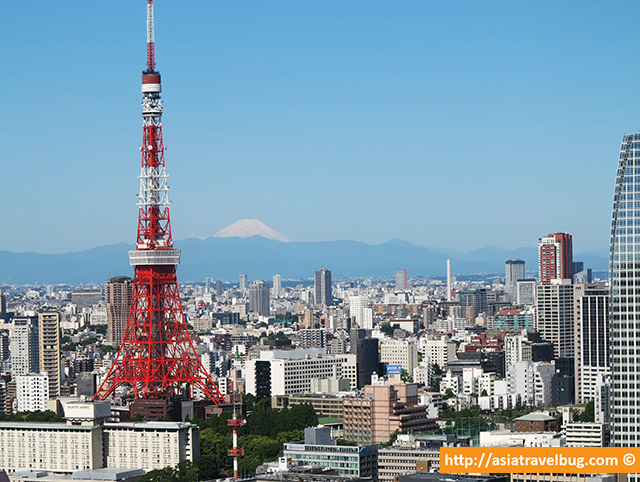 3. Be flexible and don't seal your plans too early.  During my first trip to Tokyo, I was monitoring the weather in Shizuoka like crazy! What's more surprising is the weather forecast is highly unpredictable and is drastically changing day by day. What I learned though is the weather and cloud forecast is already pretty accurate for forecasts within the next 2 days. So don't seal your day trip plans too early. Advance reservation is required if you plan to purchase Hakone Freepass, but the pass can still be purchased from Odakyu Sightseeing Center in Shinjuku Station West Exit one to two days prior to your target travel date.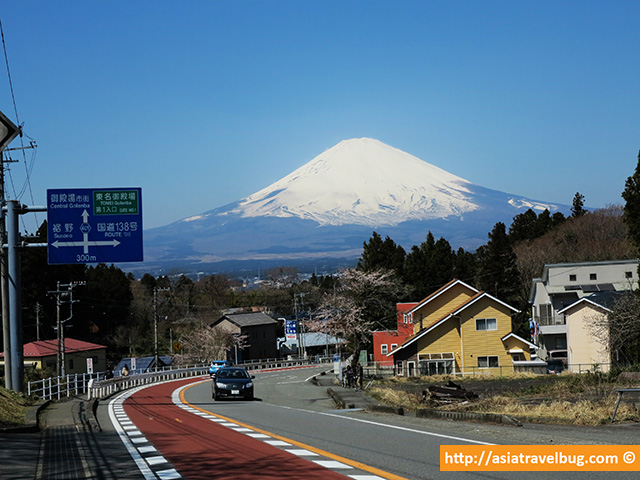 4. Go there during winter. The sky is much clearer during winter time in Japan but there is also a good chance for you to see Mount Fuji even during other seasons. I went during spring and early summer and was able to see Mount Fuji on both occasions. Or maybe I was just too lucky? 🙂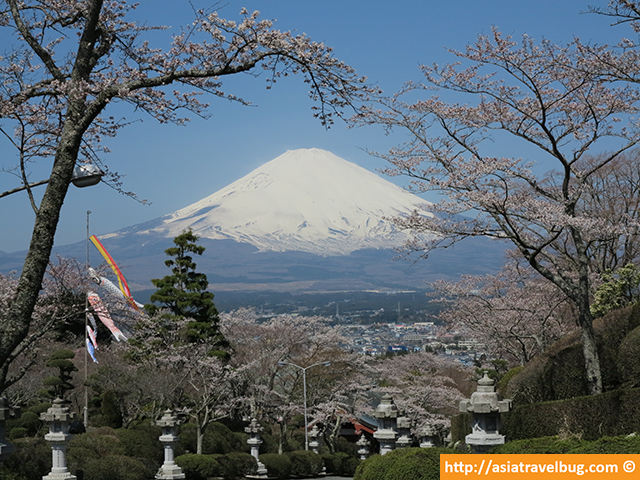 Where can I see Mount Fuji?
There are quite a number of areas where you can spot Mount Fuji at close distance or from afar. Let me start off with where I have seen Mount Fuji on first hand account experience.
Seeing Mount Fuji From a Close Distance:
1. Heiwa Park in Gotemba. Be rewarded with a magnificent view of Mount Fuji after a short climb in Heiwa Park. Perfect to visit during spring where you can see cherry blossoms with Mount Fuji as a beautiful backdrop! A word of warning though, be early because the park is frequented by group bus tours. Heiwa Park is not that popular with independent travelers due to its off the beaten path location. But if you will be rewarded with views like these, definitely it is well worth the visit! It is not hard to get to Heiwa Park anyway if you are already in Gotemba.
Entrance fee: None, free to the public.
How to get there:
Take bus heading to Gotemba Bus Interchange from Shinjuku in Tokyo. Advance reservation is required in Odakyu Sightseeing Service Center in Shinjuku. If you are going to Gotemba together with your Hakone Freepass, just add up Yen 890 (~USD 9) to book a 1.5 hour bus ride to Gotemba Bus Interchange per way. The Hakone Freepass costs Yen 5,140 (~USD 52) good for 2 days if you are departing from Shinjuku in Tokyo.
Heiwa Park is 15 minutes walk from Gotemba Bus Interchange where buses from Shinjuku and Gotemba Premium Outlets stop. You can also take a 5-minute cab from Gotemba Bus Interchange to Heiwa Park for approximately Yen 690 (~USD 7) and walk back upon return once you have figured out your way.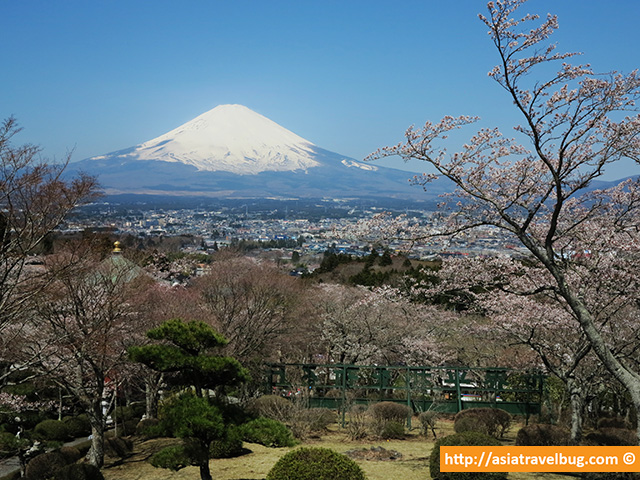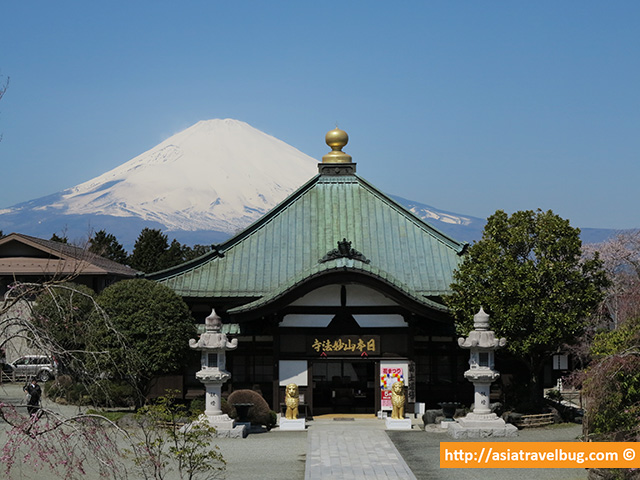 2. Gotemba Premium Outlets. Great shopping and excellent views of Mount Fuji rolled into one! On a clear day, Mount Fuji is visible right in front of Gotemba Premium Outlets where the free shuttle bus stops. There are also various good Mount Fuji vantage points inside the premium outlet.
Entrance fee: None
How to get there:  Take the free shuttle from Gotemba Bus Interchange or JR Gotemba Station to Gotemba Premium Outlets. If coming from Tokyo, you can take roundtrip Gotemba Premium Outlet bus for around Yen 3000 (~USD 30) from Shinjuku. More details can be found here.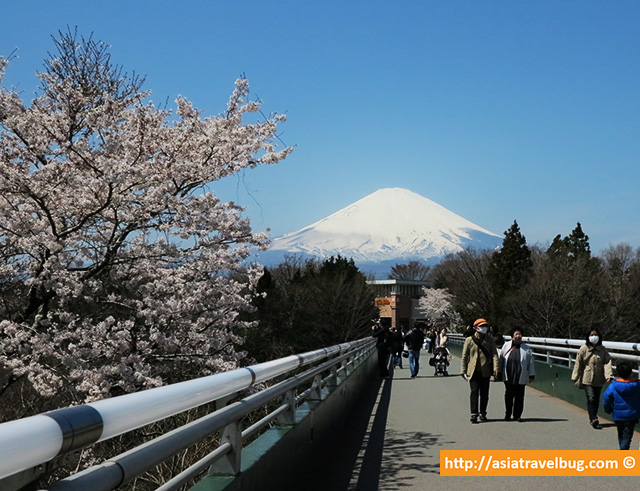 3. Owakudani Ropeway and Owakudani Car Park Area in Hakone. Though not as close as Gotemba to Mount Fuji, views in Owakudani can be one of the best Mount Fuji viewing points in Hakone area due to its higher elevation. Unfortunately by the time I got to Owakudani, the cloud forecast is already at 30% with light haze covering Mount Fuji. The view could have been way better at a cloud factor of 10% or less. Just imagine it.
Entrance Fee: This comes with your Hakone Freepass.
How to get there: Just follow the map in your Hakone Freepass. You can find more information here.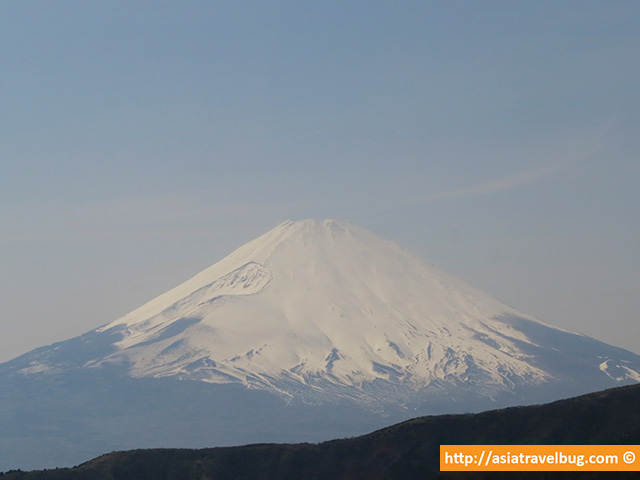 Is there an easier way for me to see Mount Fuji?
Alternatively, you can always take a hassle-free Mount Fuji day tour from Tokyo without the need to chase trains and buses by yourself. 🙂
Mt. Fuji Cruising, Yakiniku Lunch and Gotemba Outlets Shopping! – This tour is best for shoppers who would like to combine outlet shopping and Hakone tour in one day. You also get to enjoy a Yakiniku buffet! Weather permitting, you can see Mount Fuji from Moto Hakone Port in Hakone Lake Ashi and right in front of Gotemba Premium Outlets. Book here.
Mt. Fuji Tour with Hakone and Lake Ashi Cruise – This is a highly popular classic Mount Fuji day trip from Tokyo combining Mount Fuji 5th Station and Hakone with western style lunch! Weather permitting, you can see Mount Fuji from Mount Fuji 5th Station, Hakone Lake Ashi Cruise and Hakone Ropeway. Unlike other similar tours, what's great about this particular tour is they allow booking 1 to 2 days prior to the trip allowing you to better forecast the weather. Book here.
Seeing Mount Fuji From a Far Distance in Tokyo:
1. Odaiba Elevated Walkway. I totally didn't expect this but I was able to see the snow capped tip of Mount Fuji by chance while walking along the public elevated walkway in Odaiba, somewhere between the big Gundam statue (DiverCity Tokyo Plaza) and Grand Pacific Le Daiba Hotel. Just look for the Canon building, Mount Fuji is just behind it on a clear day.
How to get there: If you are staying in central Tokyo, take the Yurikamome line to Daiba station. The monorail is a tad expensive costing Yen 319 (~USD 3) per way if coming from Shimbashi station near Ginza. But the Tokyo city views in this monorail line are pretty good, if not amazing!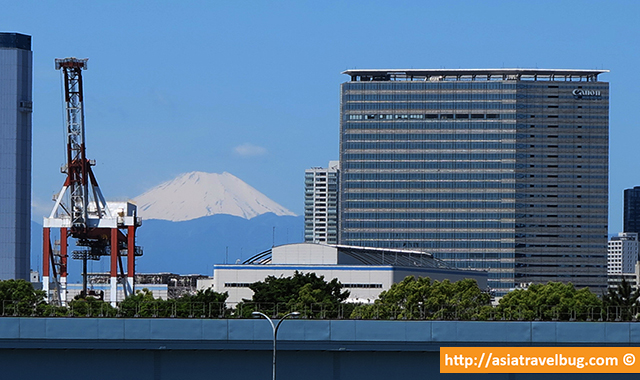 2. From a high rise hotel in Tokyo with unobstructed view facing to the west of the city. Upgrading your Tokyo hotel room with a better view may be well worth it! Actually, Tokyo hotels rarely advertise that you'll be able to see Mount Fuji from your room due to its low likelihood of showing up. My suggestion for you is to scour through hotel reviews in Tripadvisor to see which Tokyo hotels have view of Mount Fuji from a distance. But to make your life easier, let me tell you the two hotels which I stayed at with good views of Mount Fuji on a clear day. During regular season, these 4-star hotels can cost USD200 or less per night which is a steal for a premium accommodation in a highly developed country! You will not be able to find hotels of this caliber in Hong Kong, New York or Paris at this price.

> Hotel Nikko Tokyo in Odaiba (Ocean View Room – 13th Floor). I got a partial view of the snow capped tip of Mount Fuji, a great view of Odaiba's rainbow bridge, plus an oversized 40 sqm room. All these for an additional of ~USD25/night from the lowest room category rate. I can still vividly remember the majestic view of Mount Fuji peeking into my room balcony while I sip my morning cup of green tea. You can compare room rates of Hotel Nikko Tokyo and surrounding area hotels here. Asiatravelbug tip: Stay here during non-Saturdays to avoid astronomical rates. This hotel is hugely popular among Japanese locals taking overnight vacations during weekends.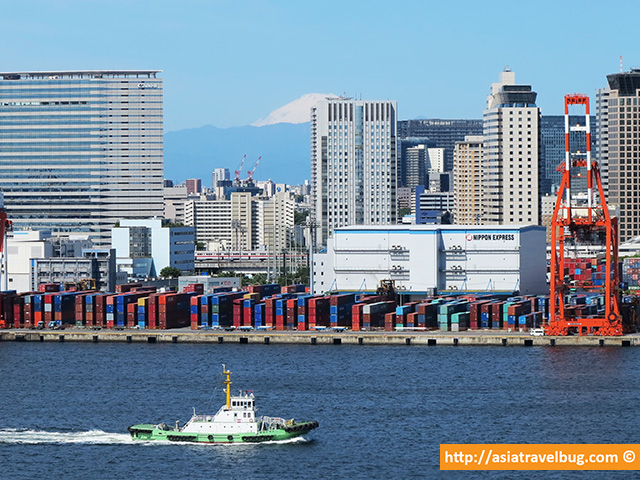 > Park Hotel Tokyo in Shiodome (City Room with upgrade to Tokyo Tower View – 27th Floor). Great Tokyo Tower view from day until night! I was able to see Mount Fuji in one morning on a very clear day. Asiatravelbug tip: I got my upgrade fee waived as a benefit for signing up for their hotel membership card and staying for 2 nights. The hotel membership is free! So I saved about USD50 which is more than enough to cover my meals in Tokyo for an entire day, eating very well. You can compare room rates of Park Hotel Tokyo here and register for free in their membership program via this link.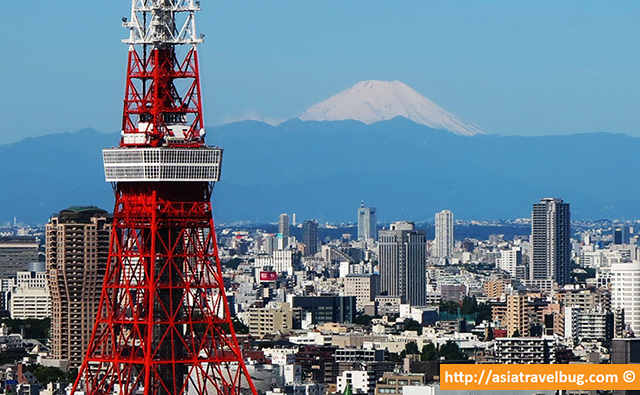 3. From the plane. Forget about the cloud factor! If you see Mount Fuji from the plane, take it as a huge bonus. Besides, it is not practical to rebook your flight due to cloud forecast. 🙂 Here is my tip to increase your chances of seeing a bird's eye view of Mount Fuji given a clear day. If arriving in Haneda airport coming from the south, sit to the left of the plane. If departing from Haneda airport heading to your country in the south, sit to the right. So here is my last glimpse of Mount Fuji about 20-30 minutes from flight take off from Haneda. It is really amazing!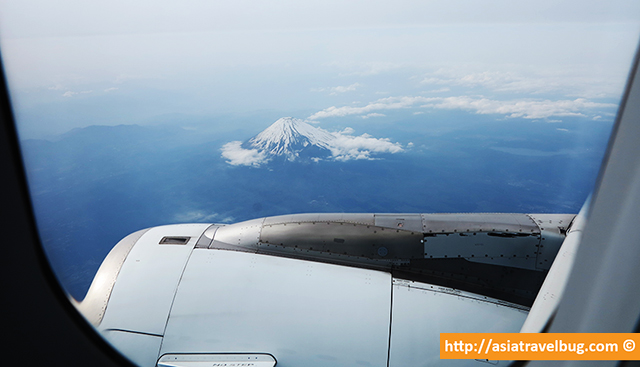 Other Areas to See Mount Fuji:
I have not been to these areas personally but these places are frequently mentioned by other travelers online as best places to see Mount Fuji. You can learn more about these areas with a quick google search.
A. Outside Tokyo
1. Laka Kawaguchiko and Fuji Five Lakes
2. Mount Takao
3. Shinkansen from Tokyo to and from Kansai Region
B. Within Tokyo from a Far Distance
1. Free observation decks
Tokyo Metropolitan Government Building in Shinjuku District
Bunkyo Civic Center in Bunkyo District
2. Paid observation decks
Tokyo Tower in Minato District
Mori Tower Observation Deck in Roppongi District
So here ends my long geeky guide to see Mount Fuji. As with any other guides, please take this a guidance and not as a guarantee to see the most popular mountain in Japan. Weather is very unpredictable and I am not a weather forecaster. 🙂 But if luck is on your side and if you combine it with proper planning, definitely you will increase your chances to see Mount Fuji in its full glory! I wish you the best of luck!
Bonus Smart Travel Tips from Asiatravelbug: 
1. Unsure where to stay in Tokyo? Are you traveling to Tokyo with a huge family or travel group? We have done all the research work for you! Learn the best area to stay in Tokyo for first time travelers and family vacationers in Japan. Check out Asiatravelbug's comprehensive Tokyo neighbourhood and hotel guide and save yourself weeks of travel research.
Click here – Where to Stay in Tokyo First Time.
2. Afraid to get lost in your do-it-yourself Japan tour? A pocket wifi can be you travel best friend. Book a pocket wifi in Japan to access Google Maps and Hyperdia while on the go! I have personally used Pupuru pocket wifi in Tokyo, Hakone and Mount Fuji and can recommend it highly. Make sure to book one before you go! Check out 5 reasons why you need pocket wifi in Japan here.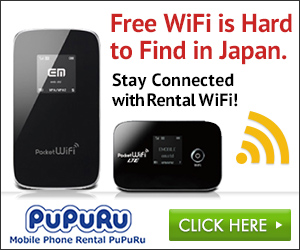 If you find this article useful and wish to receive more Japan travel tips, please follow Asiatravelbug on facebook!
Other Japan Travel Tips:
People Who Viewed This Article Also Viewed:
Tokyo Itinerary 7 Days
Where to Stay in Tokyo First Time
Tokyo: 10 Awesome Things to Do in Tokyo for First Timers
Tokyo Akihabara: 10 Surprising "Only in Japan" Moments Not to Miss in Tokyo
Osaka: My First Jetstar Asia Experience – From Manila to Osaka
Osaka, Kyoto & Nara: My First Japan Trip! Osaka, Kyoto and Nara Japan Travel Itinerary
Osaka & Kyoto: Kansai Airport Arrival, Transit from Kansai Airport to Kyoto with Haruka and Icoca Card
Kyoto: Hotel Monterey Kyoto Review
Kyoto: Exploring Nanzenji Temple and Eikando Temple in Kyoto for Free
Kyoto: Kiyomizudera Temple Kyoto
Kyoto: Exploring Higashiyama District in Kyoto
Kyoto: Tofokuji Temple and Fushimi Inari Shrine
Kyoto: Arashiyama – Sagano Scenic Train, Bamboo Groves and Tenjyuri Temple
Love this article? Share this with your friends or travel buddies using the social share buttons below!