Genting Highlands
How to get there: Take the LRT train and alight from Terminal Putra Gombak. Purchase tickets from the Genting Ticket Booth located in the ground floor of the terminal for a bus and cable car ride up to Genting Highlands.
Entrance fee: We paid MYR 26.00 (~USD 8.00) per person for Genting promo package last 2007. This includes bus ride and cable car ride to and from Genting Highlands with Terminal Putra Gombak as starting point. The package also includes your choice of Outdoor Theme Park Ride or simple lunch.
2014 Update – the package price already increased to MYR 50 (~USD 15) but with an upgraded offer. The MYR 50 Genting promo package now covers return bus and Skyway cable car transfers and, your choice between Indoor Theme Park & Snow World Pass or a Buffet Lunch at First World Cafe. If you do not want to take a package, the one-way bus and cable car transfer costs only MYR 9.40 (~USD 3). Whatever your choice, I think all options deliver value for money.
It's the third day of our trip and we are now craving for some adventure outside the city center. We headed out early for the day to avoid the morning commute rush. From KLCC Station, we rode LRT to Terminal Putra Gombak which costed us not more than MYR4 (USD 1.50) per person. The train ride was quite pleasant and there's not much people since it's early in the morning. Definitely, the price was not bad for a 30-minute ride.
We found the Genting ticket booth at the ground floor of Terminal Putra Gombak and purchased a Genting package consisting of bus and cable car ride. Unfortunately, the cable car is out of service on the day we arrived and we were transported via bus all the way. It took us 30 minutes to reach the top of Genting Highlands from the terminal. The cable car Skyway ride remains to be in our dreams and we hope to experience it next time we go back to KL. It looks like a very thrilling ride based on the photo below.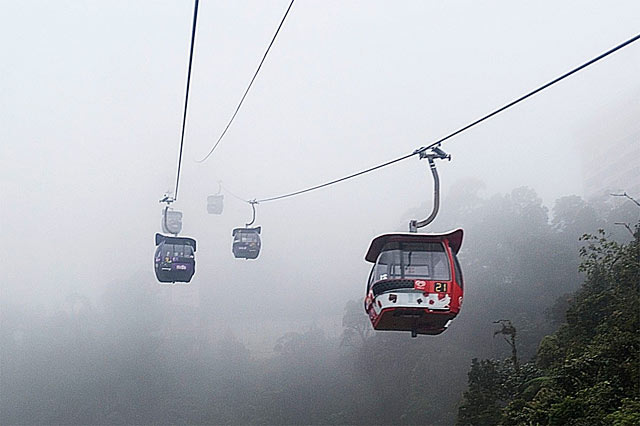 When we got out of the bus, we were caught unprepared by the cold chill high up in the mountains. We did not have jackets with us – we did not expect it to be that cold since the place is only 3o minutes away from Kuala Lumpur. The temperature in Genting is colder than aircon temperature but we still managed to take a few rides in the outdoor park since we're already there anyway. To me, the greatest attraction of Genting is the cold temperature especially for South East Asians who consider a cold weather experience a treat. The theme park is just secondary. In fact, the outdoor theme park in Genting Highlands is one of the oldest which I've seen and it could have seen better days decades ago.
Update 2014 – After 35 years in operation, the Genting Outdoor Theme Park has finally closed effective September 2013 to give way to a new development. It will be closed for the next 3 years according to their website. However, other attractions in Genting remain to be open like the Indoor Theme Park.
We did not spent much time in Genting as we felt that it was too touristy. The Genting bus took us back to Terminal Putra Gombak early in the afternoon.
Batu Caves
How to get there: Take a cab from Terminal Putra Gombak from the lower grounds of Genting. Cab cost for a 10 minute ride from Terminal Putra Gombak to Batu Caves is approximately MYR 6 (less than USD 2) without traffic.
Entrance fee: Free
Batu Cave is located along a major highway and is accessible by cab. The majestic statue of the Hindu God in Batu Caves is so huge that you can see it from afar along the highway. The 272 steps are quite even and should be an easy climb for a fit person. We met some monkeys along the stairs and they should be best left alone. Later you will know why.
We nearly had a disastrous encounter with the monkeys on top of Batu Caves. While we prepared to take pictures of shrines and temples, my mom left our bag of chips temporarily on the ground. Guess what happened next? The monkeys immediately grabbed the bag and fled. We tried to get it back from but the money was already in a mode of attack, shouting with its mouth wide open. We felt very threatened. Good thing there was a Hindu monk passing by who shooed the monkey away. So this monkey went away with a complete snack – some bag of chips and bottles of water. After visiting Batu Caves, we flagged down a cab along the highway. Cab fare is around MYR20.00 (~USD 6) to KL City Center. Whew! What a day! This is definitely a day to remember and a lot to be thankful for – we escaped the attack of Batu Cave monkeys!
Asiatravelbug Tips:
1. Bring a jacket to Genting Highlands to ensure a comfortable stay.
2. To avoid unwanted and dangerous encounter with monkeys in Batu Caves, do not tempt them with food and do not leave your things unguarded. Do not pet the monkeys.