HONG KONG MID-RANGE DINING – (1) ABERDEEN FISHBALL AND SEAFOOD RESTAURANT, (2) SPRING DEER, (3) CHUK YUEN
Prepare to spend: HKD 120 – 150 per person (USD 16 – 20 per person)


(1) Aberdeen Fishball and Seafood Restaurant
Where: Humphreys Avenue, Tsim Sha Tsui, Kowloon, Hong Kong
While passing by the area of Tsim Sha Tsui, we got attracted to the retro ambiance of Aberdeen Restaurant and had our first dinner there. Serving size is quite generous. We ordered their roast Peking duck, kailan vegetables and fried rice. The Pecking Duck is tender, tasty and without any odor. Fried rice is quite too salty for our liking. Overall, food taste is so-so. I think I can get better value for my money somewhere. But if you drop by here, I would recommend you to order their Peking Duck.
Milk Tea
Kailan
Fried Rice
(2) Spring Deer Restaurant
Where: 
2F, 42 Mody Road, Tsim Sha Tsui, Kowloon, Hong Kong
The entrance of Spring Deer is very unassuming. If you are not intentionally finding this restaurant, you won't be able to find it as the entrance is located in a building alley. We did not make any reservations ahead, luckily we were able to snag the last seats at 6:00pm for dinner. This place is famous for their roasted pecking duck but be forewarned that they don't sell quarter or half duck. So we had no choice but to order a whole pecking duck for the three of us.
Spring Deer Restaurant Entrance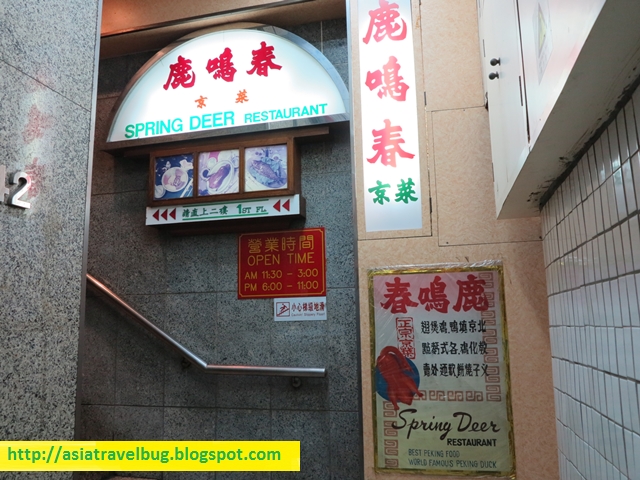 The Chef Slicing The Duck Skin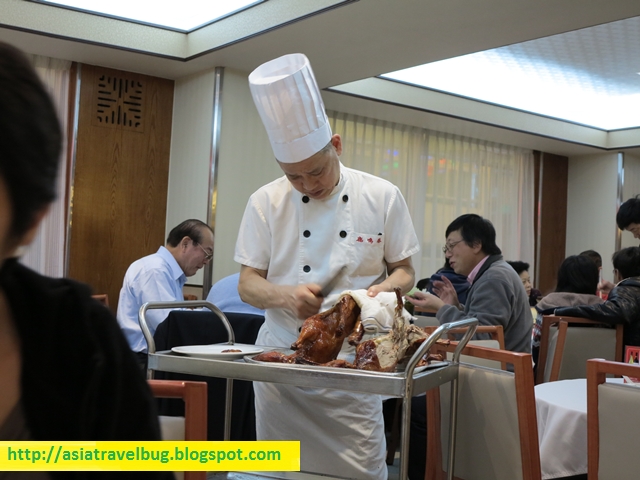 We had our duck in two-way style. Duck skin wrapped in Chinese pancake dough for the first way and minced duck meat wrapped in lettuce for the second way. I have to admit that the Pecking Duck is perfectly cooked, very aromatic without any duck odor. Fat is just right. However, I was quite surprised that the duck skin was sliced with a lot of meat and the Chinese pancake dough came out unusually thick. It tasted yummy though, different than the usual first way Pecking Duck where other restaurants only slice off the skin only. The second way is not to my liking as it was cooked with too much celery.
First Way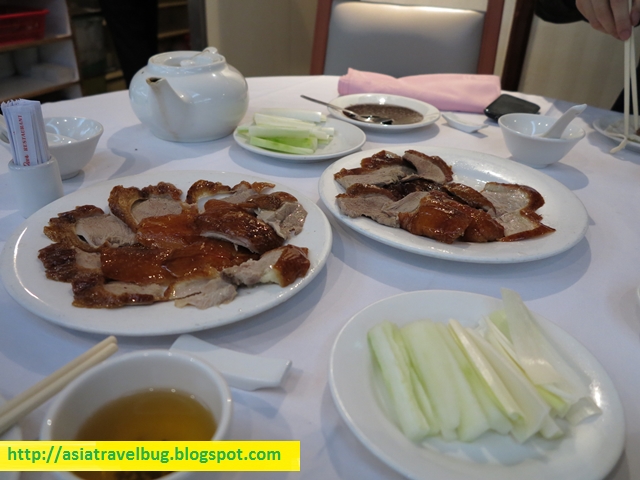 20 pcs of Chinese Pancake Wraps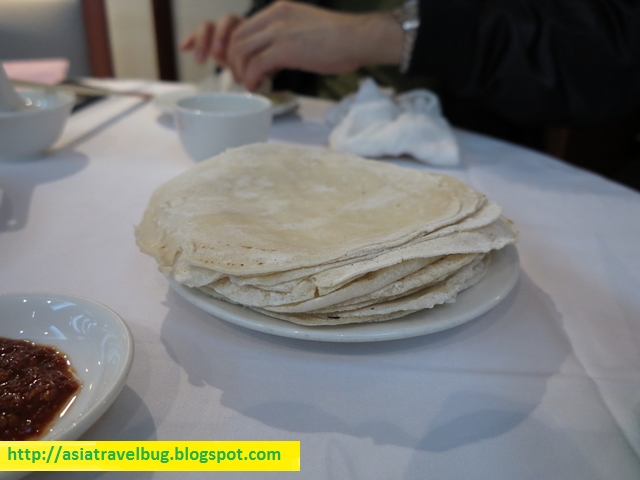 Duck Skin Wrapped in Chinese Pancake with Onions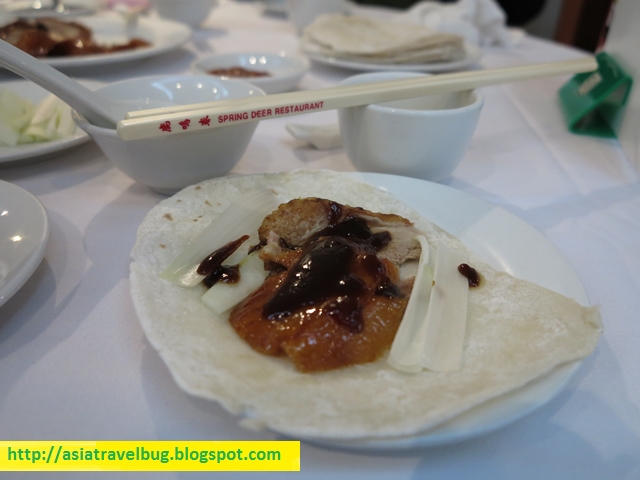 Second Way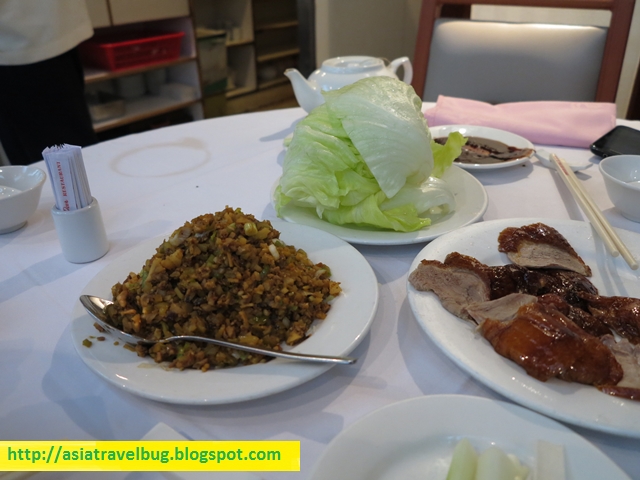 We spent around HKD450 for the two-way whole Pecking Duck and I think it was a good value for money. With 20 pieces of Chinese pancake doughs, the whole duck can serve 6-8 people. We did not get the chance to try other dishes as we were fully stuffed with the whole Peking Duck. The place is jam-packed with locals, I am sure that their other dishes taste good too!
(3) Chuk Yuen Restaurant
Where: 28 Hankow Road, Tsim Sha Tsui, Kowloon, Hong Kong
I researched this restaurant at the last minute and Chuk Yuen Restaurant is a great foodie find! We ordered a variety of dim sum for lunch and I particularly liked the raddish cake a lot. I would rate this as a super star dish! Certainly highly recommended by asiatravelbug! Great service and prices are quite affordable.
Raddish Cake – Two Thumbs Up from Asiatravelbug!
Dimsum Lunch