A bright sunny day greeted us on our second day in Kyoto. Just perfect weather to spend the whole day exploring southern and northern Higashiyama area. Our first two stops for the day were Tofokuji Temple and Fushimi Inari Shrine.
Tofokuji Temple
Admission: 350 yen (USD 3.50)
How to get there: Get off at JR Tofokuji Station from JR Nara line, follow the crowd to Tofokuji temple, walk for about 10 to 15 minutes.
Despite the peak season, I was glad to see that there was no queue in the ticket booth. We got our entrance tickets to Tofokuji temple in just a few minutes. Yey!
Here is the Tofokuji temple facade near the ticket booth.
Inside, the trees in the main area were predominantly yellow. Lots of leaves could be seen in the ground as these were washed from the trees due to yesterday's rain. The view could have been a lot better had it not rained yesterday.
Tofokuji temple was super jam-packed with people today. At one point, we were squeezed like sardines but good thing there was no shoving and no pushing. I managed to get some great photos though.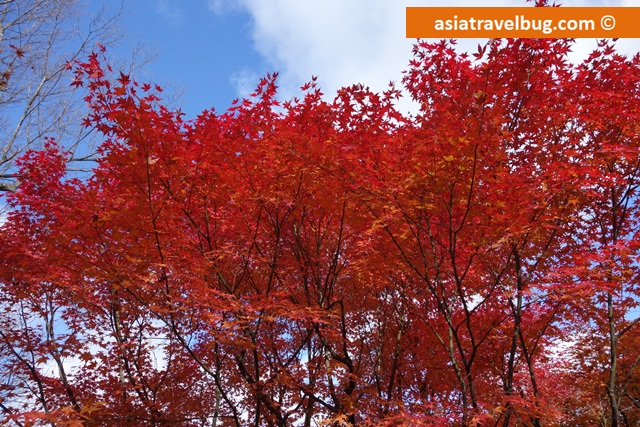 We only spent an hour in Tofokuji temple and headed to our next stop – Fushimi Inari Shrine.
Fushimi Inari Shrine
Admission: Free
How to get there: Get off at JR Inari Station along JR Nara Line. Fushimi Inari Shrine is just across JR Inari station.
The big Torii gate of Fushimi Inari diagonally across JR Inari Station.  The place looks deserted since most of people are in Tofokuji enjoying view of autumn foliage.
Shinto temple inside Fushimi Inari. Orange is a very powerful color in Japan similar to the symbolism of red color in China.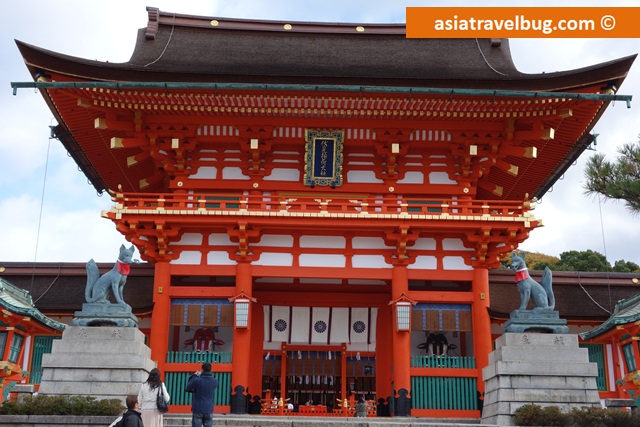 Drinking area in the temple.
Locals ringing bells in the shrine as part of their prayer ritual.
Honestly, I did not have any idea why there were numerous fox statues within Fushimi Inari Shrine. I did a quick google search today and found that the fox symbolizes the God of Rice.
There were thousands of Torii gates along the hiking trail to the top.
Fortunately, we saw a little restaurant in the middle of the hiking trail, just in time when our stomachs started to growl for lunch.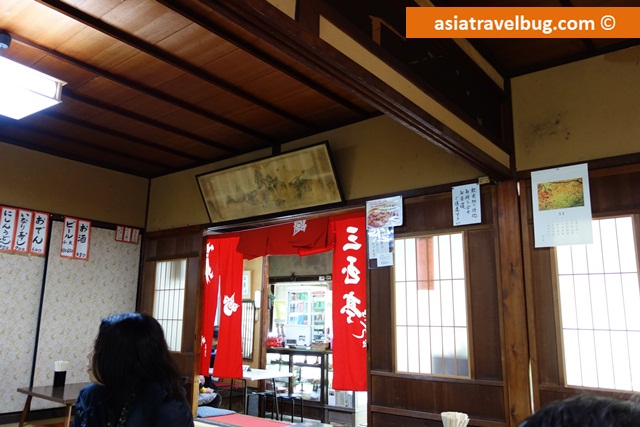 Nice Japanese interior with Tatami mats.
I ordered tempura udon for 700 yen (USD 7.00). It was nice feeling to eat hot noodles especially during a cold autumn day.
My mom ordered Tofu udon which costs 600 yen (USD 6.00).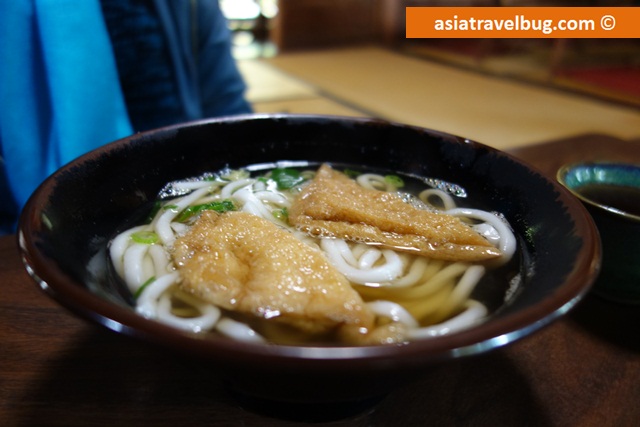 I love the inari sushi which consists of 6 rice triangles covered with tofu skin. Love it's sweet taste! The inari sushi costs 700 yen (USD 7.00). Unfortunately, we did not get the chance to get the name of the restaurant but I'm sure you will pass by here when you hike in Fushimi Inari. The food was good and prices were reasonable. I still vividly remember the local Japanese man sitting beside our table sipping his bowl of noodles noisily. In Japanese customs, this is a sign of yummy food.
After our hearty lunch, we continued our hike to the top.
Finally we reached the top of Fushimi Inari Shrine, what a lovely view of Kyoto city proper! Now I know our 1+ hour hike to the top was well worth it!
Next: Japan Day 2 – Kiyomizudera Temple Kyoto >>>>>
Looking for a more modern or futuristic Japan experience? Hop on the train and head to Tokyo. Check out our Tokyo travel blog to learn the Top 10 Awesome Things to Do in Tokyo for First Timers!
Looking for a convenient place to stay in Kyoto? Search for Kyoto hotels from over 100 travel sites in once click here.