The Petronas Twin Towers
Knowing ahead that Petronas Twin Towers tickets are limited, we rushed to their ticket office right after breakfast. It's a good thing that these towers are only located within 5-minutes leisurely walk from our hotel. We arrived at the concourse level of the building at 8:45 am and was surprised to see a hundred people already in line. In case you are lost in the lobby of Petronas, just ask the guards there to point you to the right direction. After 45 minutes of queue, we were able to get our tickets for 10:45 am Skybridge access. We went to the mini museum of Petrons Twin Towers just adjacent to the ticket booth while waiting for our turn to go up to the Skybridge. We found an interactive height calculator in the museum which computes how many times taller are the towers versus your height – indeed a very fun way to kill time.
The Petronas Twin Towers was once the tallest tower in the world but has already been overtaken by Taipei 101 in Taiwan and Burj Khalifa in Dubai. It remains to be the tallest TWIN towers in the world though with a skybridge connecting the two towers. With the heavy campaign of Malaysian tourism showcasing the Petronas Twin Towers as an iconic symbol, it has created a perception that a trip to Kuala Lumpur cannot be complete without visiting these twin towers.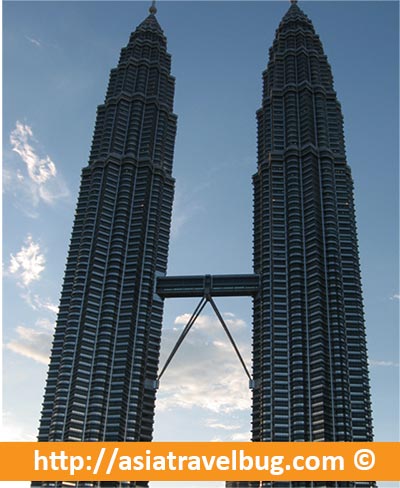 At exactly 10:45 am, the Visitors Center staff showed us a video about Petronas (the Gas Company) and how the Petronas Twin Towers were built. We were then escorted to a high speed elevator which took us to the Skybridge in 41st floor. We were given 10 minutes to roam around so everyone was too busy taking pictures given the limited time.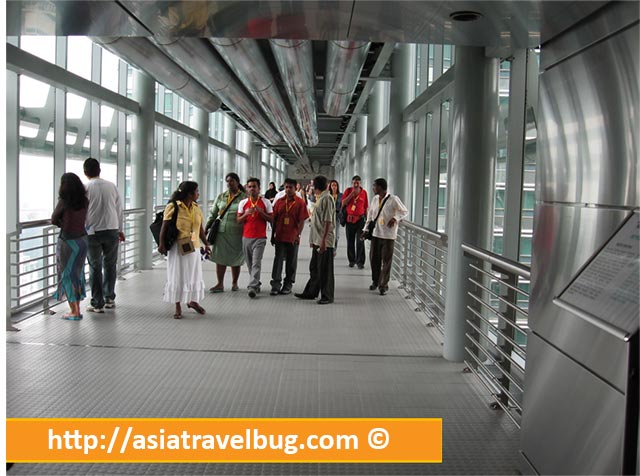 The view from the Skybridge gave us a bird's eye view of Kuala Lumpur. The view was ok but not fantastic.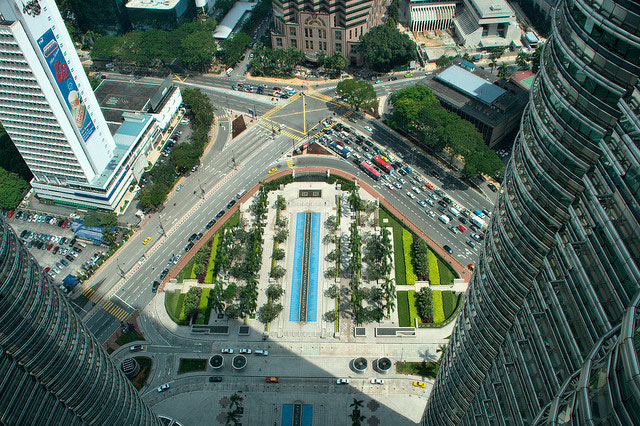 Update 2014: The tickets to access the Skybridge in Petronas Twin Towers are no longer free. The ticket currently costs MYR 80 (~USD 25) per person but already covers access to the 41st floor Skybridge and 86th floor Observation Deck. Online ticket bookings are already available in their website.
Asiatravelbug Tips:
1. To be honest, the view from outside is more beautiful than from inside.
2. The Petronas Twin Towers are best viewed during night time from the KLCC Park at the back of Suria KLCC Mall / Petronas Twin Towers.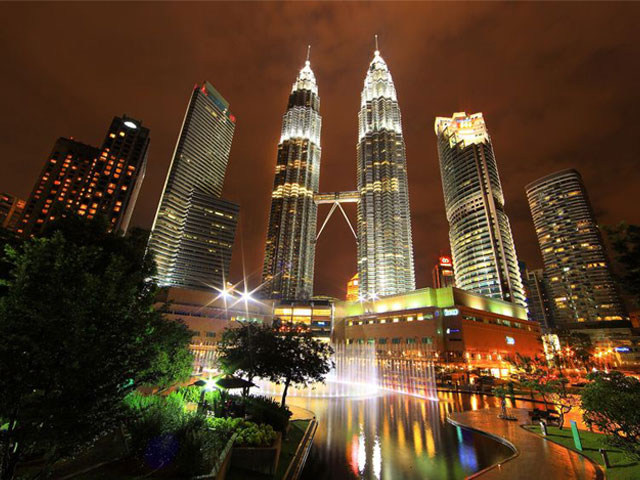 3. Visiting hours are from 9am to 9pm everyday except on Mondays. So do not schedule your visit on Mondays.
4. You may want to consider spending your money in alternative activities given the high price tag of Petronas Twin Towers access. There are plenty or luxurious yet affordable roof top bars/restaurants in Kuala Lumpur with similar panoramic city views.
Merdeka Square
After our lunch in Suria KLCC, we took a cab to Merdeka Square. Merdeka Square is the Kuala Lumpur version of Manila's Rizal Park with a giant flag pole.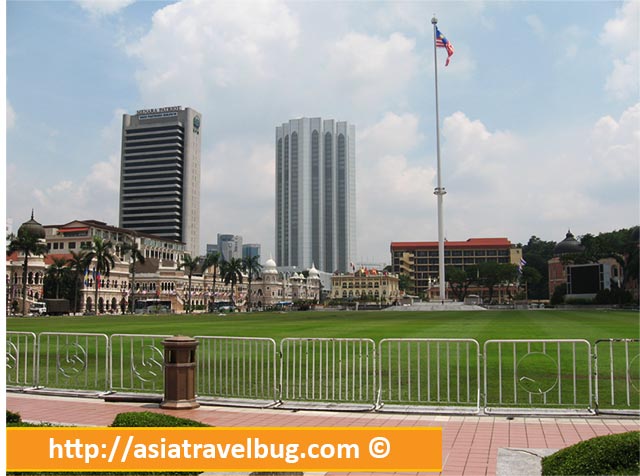 We were sweating really hard due to the heat since we arrived just past noon time. Perhaps due to the noon time heat, we're the only people around the area at that time and the place felt very serene. Right after taking pictures, we hailed a cab to go to Bukit Bintang because we cannot stand the heat any longer.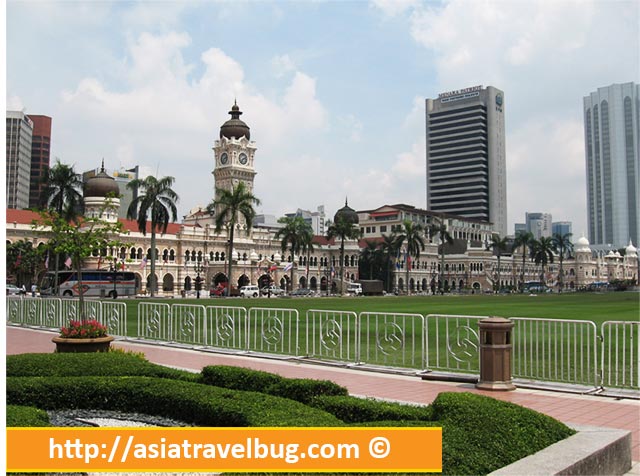 Bukit Bintang
Just like other major cities in developing countries, dishonest cab drivers in Kuala Lumpur is a very old problem. We had such an experience when we hailed a cab from Merdeka Square to take us to Bukit Bintang. Despite asking the driver to turn on the meter when we got inside the cab, the driver refused and asked us to pay a flat rate instead. Well, what can we do? We just let it pass otherwise our lives maybe put at risk. 🙁
The cab dropped us off at Lot 10 Mall where we did some window shopping. We also went to Sungei Wang Plaza and other adjoining malls to see what the stores have to offer. The shoes in Kuala Lumpur are really cheap.
Click here for Day 3 (Genting Highlands and Batu Caves)
Go to:
Day 1:  Singapore to Kuala Lumpur by Bus from Harbour Front Centre
Day 2:  Petronas Twin Towers, Merdeka Square & Bukit Bintang in Kuala Lumpur
Day 3:  Genting Highlands and Batu Caves
Day 4:  Bayview Hotel Singapore and 2 Day Singapore Pass
Day 5:  Duck Tours Singapore, Heritage Hippo Tour & Moonlight Adventure
Day 6:  Singapore River Cruise, Clark Quay & Sentosa
Day 7:  Singapore Zoo and Night Safari
Day 8:  Things to Do in Singapore in Less Than a Day