There are numerous options on how to get from Singapore to Kuala Lumpur – via bus, train or flight. It took me sometime to choose but finally decided to do our transfer via bus. Luxury buses plying Singapore and Kuala Lumpur route are plenty with strategic pick-up and drop-off locations right in the city center. Also, the transit time via bus is just ~5 hours which is not that long considering the entertainment and business class-like seats offered by these luxury buses. Some luxury bus liners like Aeroline even go as far as providing an on-board lounge making the 5-hour ride from Singapore to Kuala Lumpur a travel experience on its own.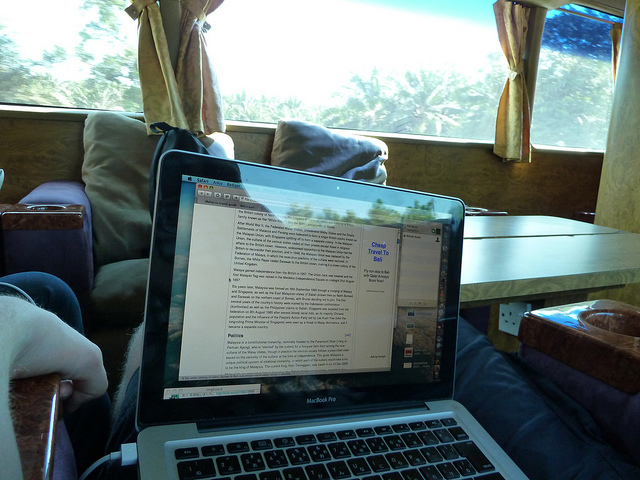 Singapore Changi Airport 
Since the schedule of our transfer from Singapore to Kuala Lumpur by bus was on the same day of our arrival, we hurriedly took a cab direct to Harbour Front Centre right after we cleared immigration in Changi Airport. The queue in the taxi bay of the airport was quite fast and we arrived in Harbour Front Centre, the pick-up point of Aeroline bus, in less than 30 minutes. The cab costed us SGD20.00 which I think is a fair price for a group of 4 people traveling together.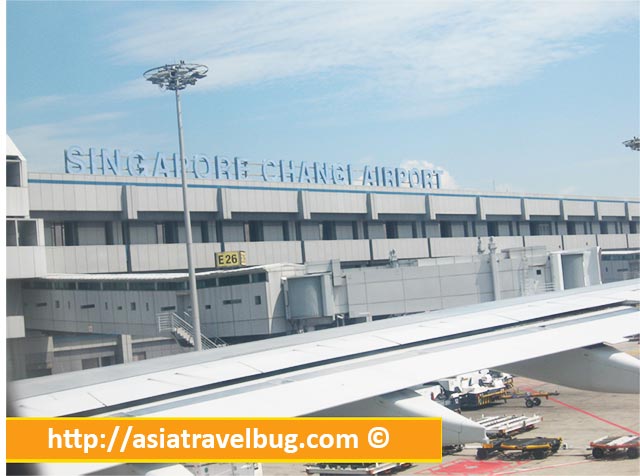 Harbour Front Centre and Aeroline Ticket Office
The cab dropped us off at the coach bay of Harbour Front Centre and I was surprised that no buses can be seen in the area. I started to doubt whether we were dropped off in the right location so we immediately looked for the Aeroline ticket office. Finally, we found the Aeroline bus ticket office in the second floor of the mall which cleared all our doubts away. I presented our online booking and was able to get our 3:30 PM bus transfer tickets from Singapore to Kuala Lumpur. We purchased our tickets in advance online at SGD 47 (~USD 37) per way, a sweet price considering that we'll be able to travel in style and in comfort. I highly recommend that you book your bus tickets online in advance to ensure availability of seats on your desired time.  The Singaporean lady in front of us tried to book seats on the day itself only to be told that all seats from Singapore to Kuala Lumpur for the day have been sold out.
We had our lunch in the food court of Harbour Front Center with a lovely view overlooking Sentosa. Since we got to the Aeroline pick-up point 3 hours earlier than our scheduled departure, we killed our time window shopping in Vivo City, a relatively new mall interconnected with Harbour Front. The pick-up point of majority of luxury buses in Singapore is in Golden Mile Complex bus terminal. What I appreciated about Aeroline is the proximity of its pick-up point to to Vivo City Mall, this means I can shop/window shop in comfort before bus boarding.
At 3:00PM, we started our 15-minute walk towards the coach bay of Harbour Front Center thinking that the bus might already be there for passenger boarding. When we reached the coach bay at around 3:15PM, we were surprised to find no Aeroline bus still. At around 3:30pm, we were glad to see an Aeroline bus coming which dropped off passengers from Kuala Lumpur. We were asked to board the bus after 10 minutes and off we started our 5-hour Singapore to Kuala Lumpur bus journey.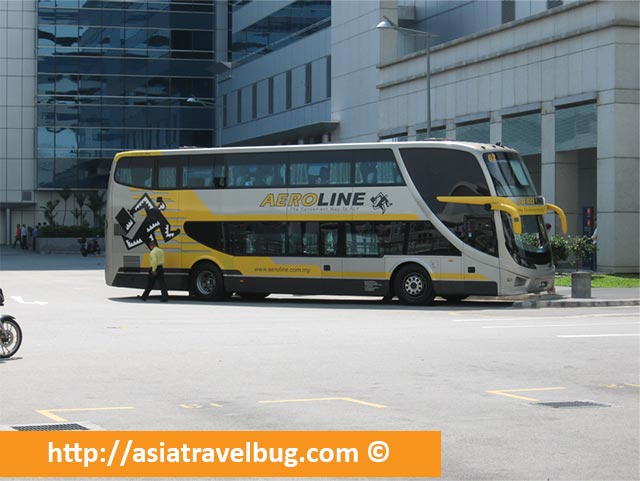 Traveling in Comfort from Singapore to Kuala Lumpur via Aeroline Bus
In 30 minutes, we arrived at the Singapore customs border and were asked to disembark the bus with all of our luggage. Fortunately, the bus stewardess and the driver of Aeroline did a great job assisting the passengers in unloading luggages and loading it back, making the process less stressful. Queue in Singapore border customs is fast, in less than 10 minutes we're already done. After crossing the Singapore to Malaysia bridge, we arrived at the Johor Bahru Malaysia customs border. Again, we were asked to repeat the same process of disembarking the bus with our luggage. Queue in Johor Bahru customs border is as fast as that of Singapore. In no time, we were back at the bus and the driver headed for the highway. Singapore to Kuala Lumpur via bus is a ~5 hour road journey. It's a long ride but Aeroline Double Decker Bus made it sure that every passenger is comfortable through out the trip .
During our Aeroline bus ride from Singapore to Kuala Lumpur, we were served with a packed meal and a bottle water. The packed meal was neither good nor bad, but it was filling. The bus also made a stop in the middle of the trip for washroom break and we had a little time-off to explore stores selling cheap Malaysian local delicacies.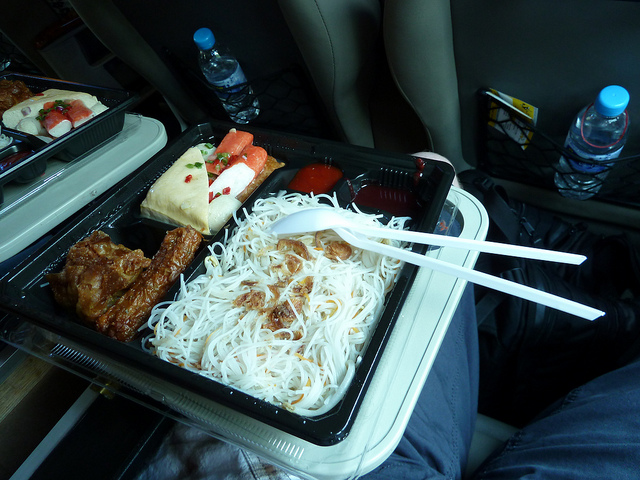 Corus Hotel, Kuala Lumpur
We arrived at Corus Hotel , the drop-off point of Aeroline in KL, at around 8:30pm after 5-hour bus ride from Singapore to Kuala Lumpur. We already made our booking for a 3 night stay in this hotel online a few weeks ago. We chose Corus Hotel for it's convenience. First, the Aeroline bus loading and drop-off point is just outside Corus Hotel along Jalan Ampang Road. Secondly, it is located less than five minutes away from Petronas Twin Towers and Suria KLCC Mall. Third, KLCC LRT Station is just 3 minutes walk located in the basement of adjacent mall, Avenue K. And last, it is affordable and the complimentary breakfast thrown in provides great value for money.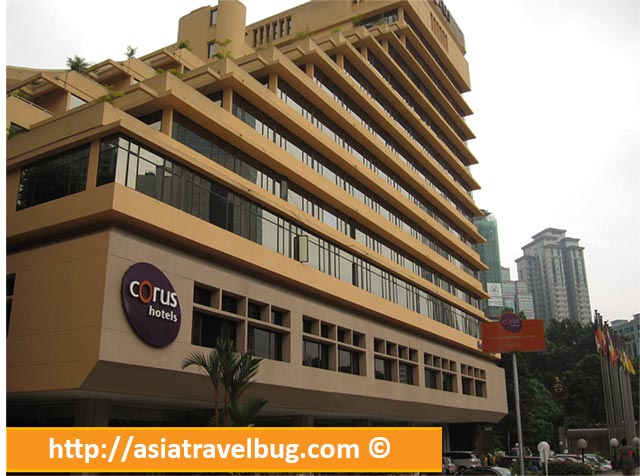 On the downside, although the hotel is marketed as a four star hotel, I think the hotel is 3.5 star at maximum. The rooms are of good quality but the service can hardly be remembered. Also, the hallways leading to the rooms smell quite stinky during our stay.
Asiatravelbug Tip – Update 2014: The drop off point of Aeroline in Kuala Lumpur remains to be just outside Corus Hotel. However, since the 5 star room rates in Kuala Lumpur are one of the cheapest in major Asian cities, it maybe wise to indulge in a luxury hotel like Shangri-la Hotel or Traders Hotel instead. Most of the luxury hotels in Kuala Lumpur are well located in the city center. The cost of living in Malaysia is cheap anyway and your cab fare from the bus drop off point to the luxury hotels will only make a negligible dent in your travel budget. Remember, these 5-star branded hotels cost 2-3 times more in much more in other Asian cities like Singapore or Hong Kong.
Click here for Day 2 (Petronas Twin Towers, Merdeka Square & Bukit Bintang in Kuala Lumpur)
Go to:
Day 1:  Singapore to Kuala Lumpur by Bus from Harbour Front Centre
Day 2:  Petronas Twin Towers, Merdeka Square & Bukit Bintang in Kuala Lumpur
Day 3:  Genting Highlands and Batu Caves
Day 4:  Bayview Hotel Singapore and 2 Day Singapore Pass
Day 5:  Duck Tours Singapore, Heritage Hippo Tour & Moonlight Adventure
Day 6:  Singapore River Cruise, Clark Quay & Sentosa
Day 7:  Singapore Zoo and Night Safari
Day 8:  Things to Do in Singapore in Less Than a Day