We were supposed to visit Grand Palace for the day but made a last minute change to visit Taling Chan Floating Market instead. It was Sunday morning and already on our way to Grand Palace when we learned that Taling Chan Market is only open on weekends. From the Chao Phraya river bus, we immediately alighted at the next pier – Tha Tien pier. We wandered for a bit and reached a smaller informal pier just across Wat Arun. There we were able to hire a private long tailed boat for 1,000 Baht (~USD 31) for 1.5 hours tour to Thonburi canals and Taling Chan Floating Market.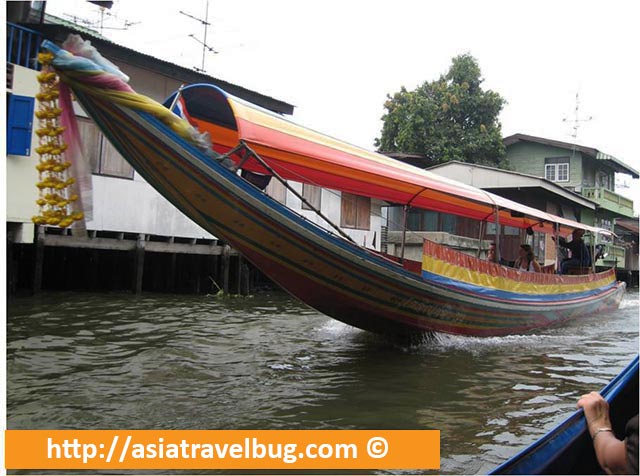 Asiatravelbug tip: Learn how to bargain at least 50% off from the initial offer from the boatman. The boatman initially offered us 2,000 Baht (~USD 62) total for 3 people but we were able to bargain the price down to 1,000 Baht (~USD 31) after 15 minutes of haggling.
Thonburi Canals (Khlongs)
Passing through Thonburi canals is an interesting way to see how normal Thai people live. We were really amused to see a lot of interesting local scenes as soon as the boat entered the canals from the Chao Phraya River. We saw some locals trying to catch fish from the canal right from the edge of their house. Surprisingly, the canals were teeming with cat fish even though the water is a bit dark and murky. We also saw children happily swimming in the canals along our way.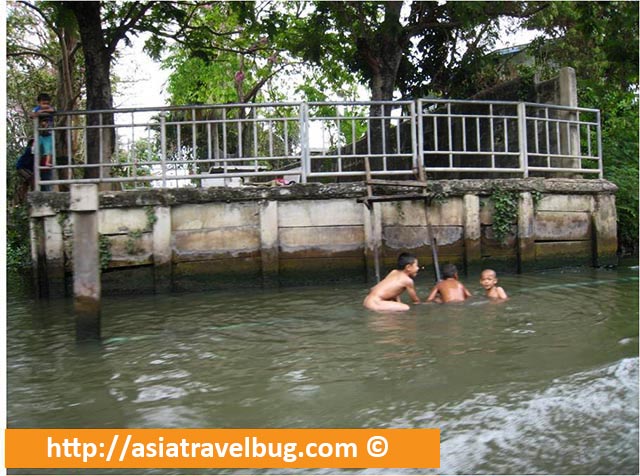 Jet-skiing seems to be a normal way of life for Thai locals living in the canals. How cool is that!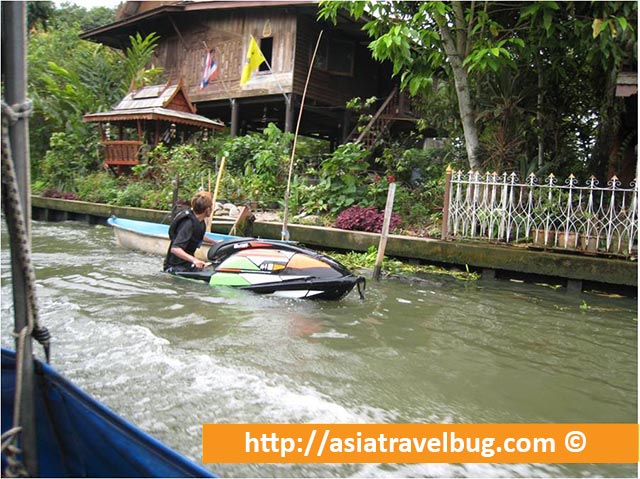 It was nice to see the canals dotted with temples, rustic houses and mansions on our way to the Taling Chan Floating Market.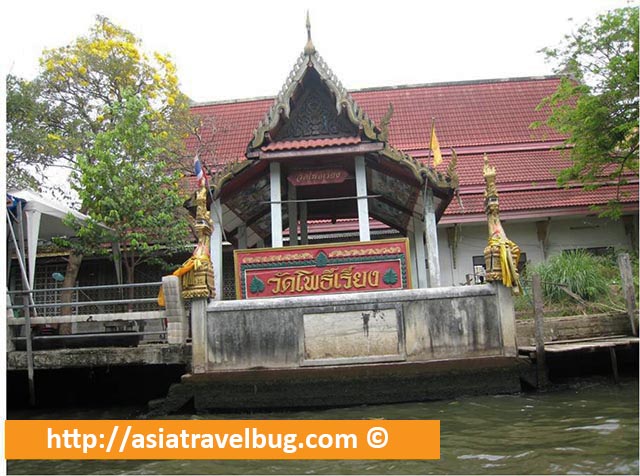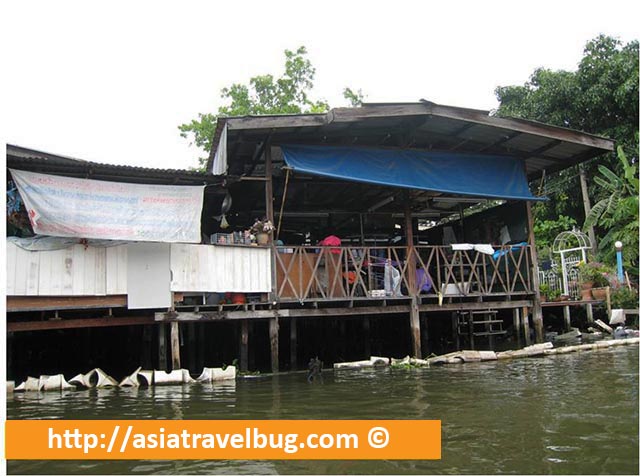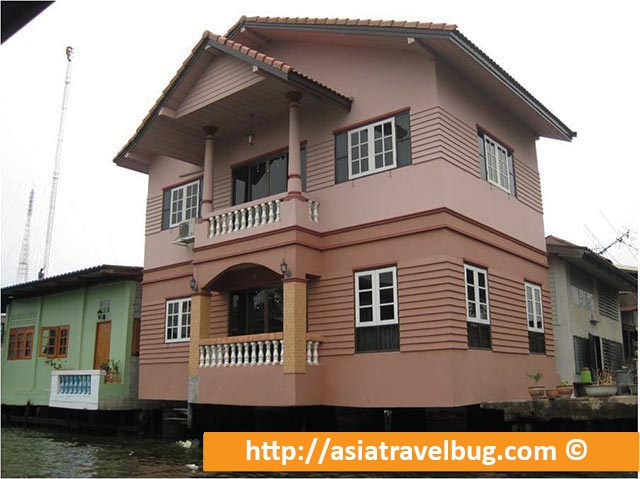 Taling Chan Floating Market
Finally we reached Taling Chan Floating Market in the middle of our tour where the boatman dropped us there for 30 minutes.  Unlike Damnoen Saduak Floating Market which sells mostly fruits and vegetables, Taling Chan Floating Market sells cooked food and prices are really cheap. It was actually our first time to see a floating market and we loved the experience – a true Thai experience.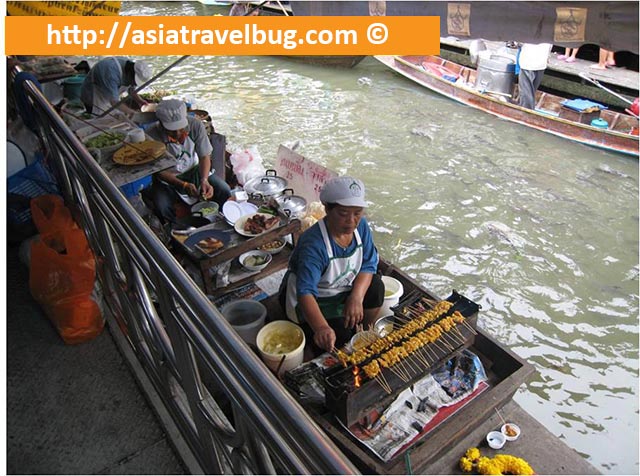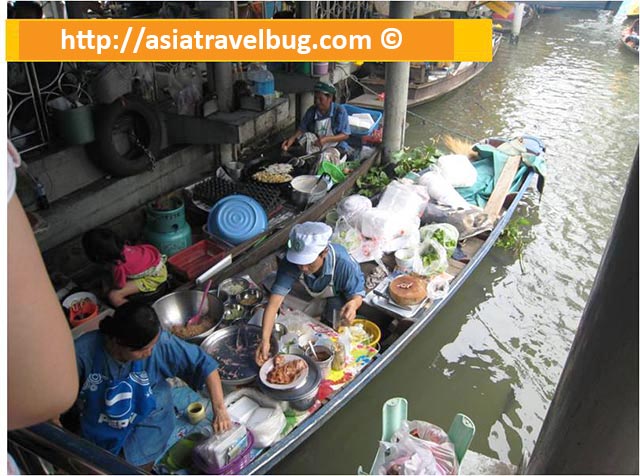 Aside from the floating boats, there are also stalls which sell a hodgepodge of things – clothes, trinkets, grilled food, dimsum, fruit shakes, Thai delicacies, fruits and vegetables. Since we only had 30 minutes, we quickly grabbed some cheap chicken skewers from a food stall. The grilled chicken skewer was meaty, tasty, yummy and cheap!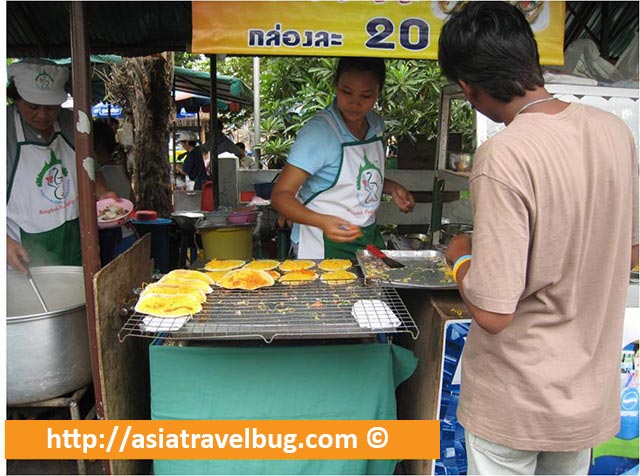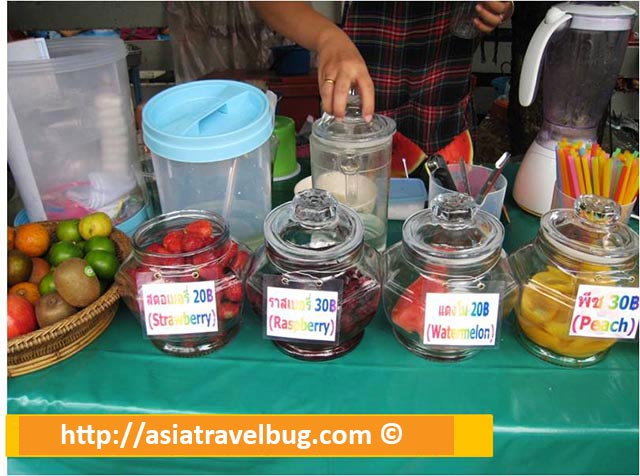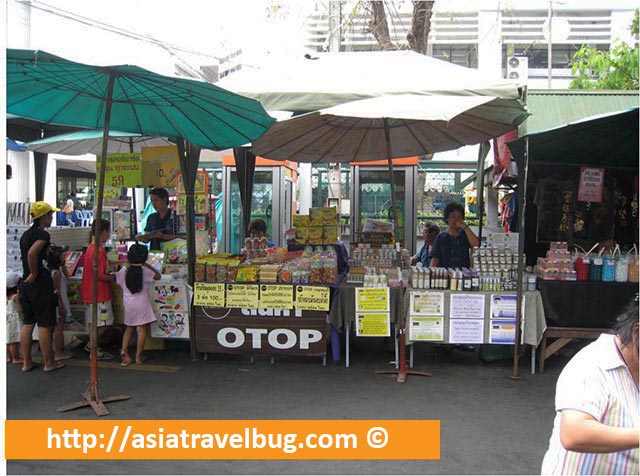 On one end, there's a lot of cat fish swimming in the waters of Taling Chan Floating Market. The kids were also throwing pieces of bread sparking a fish feeding frenzy right in the middle of the market.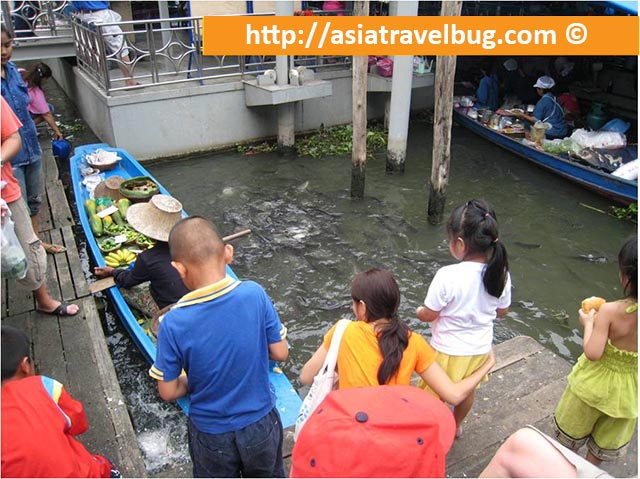 After our stop in Taling Chan Floating Market, we continued our journey in Thonburi Canals and the boatman brought us to Wat Arun – our last stop as agreed.
Go to Day 2: Wat Pho and Wat Arun Temples >>>
Go to: